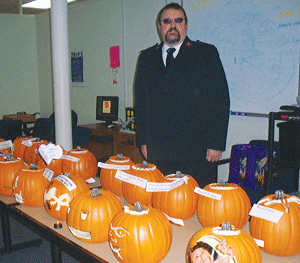 Battling the 'Demons of Addiction'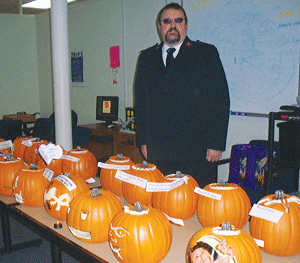 Denver ARC beneficiaries take on a challenge at Halloween.
By Ron McKinney, Captain—
During Halloween weekend, Denver Adult Rehabilitation Center (ARC) beneficiaries accepted a challenge from Major Sylvia Hoogstad, director of special services, to have fun while dealing with the "demons of addiction."
"Every year this contest is met with excitement," Hoogstad said. "It doesn't matter what the theme is. The opportunity to participate in the holiday spirit makes the beneficiaries happy to be alive. The exchange of ideas, creativity in action and the beauty of each entry are almost magical."
The fun started when the Halloween program literally took flight with a pumpkin-tossing contest. The rules were simple: toss the pumpkin as far as possible, any way possible. With pumpkins donated by King Soopers grocery store, beneficiaries displayed their athletic abilities as laughter and cheers resounded in the parking lot.
After the Sunday worship service, the festivities continued with a serious undertone at the pumpkin-carving contest, called "dealing with the demons of addiction." Hoogstad gave each participant a theme based on an addictive substance, which the carvings had to reflect.
"The vivid pictures they carved were real to them," Hoogstad said. "The exercise is to turn their experience of addiction over to a positive one, passing wisdom on to others."