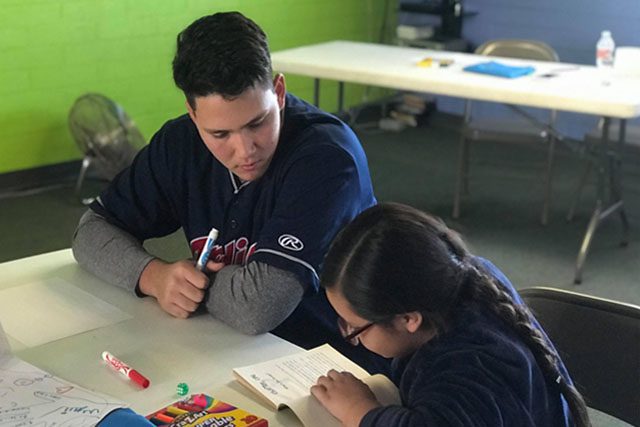 Cleveland Indians recruits join in Estrella Mountain after-school learning
Eight recruits from the Cleveland Indians baseball team made a special visit recently to the after-school program at the Estrella Mountain Corps in Avondale, Arizona.
The athletes will join the team for tryouts during Spring Training in 2020 as natives of Latin and South American countries. While they hope to join the team, they are also striving to improve their English. Simultaneously, the after-school program has emphasized reading and comprehension for its youth this year.
During the team's visit, children were paired with the athletes and other members of the baseball team's staff.  
"Each pair followed a simple lesson plan that allowed them to get to know each other, for the children to practice reading aloud while the athletes practiced speaking English—working together to comprehend the text," said Lt. Jayerica Tumale, Assistant Corps Officer. "Though hand gestures, drawing, and Google translations were used to better understand each other, many smiles and laughter were exchanged."
One youth participant, Joseph, was nervous about interacting with a non-English speaking athlete. 
"My partner was funny," he said. "We got to read a book together and he knew a lot of English words."
Tumale said most of the children come from underprivileged and large households and, like any child, yearn for a positive role model. 
"Working one-on-one with an adult helps children become proud, confident and excited about learning," she said. "The after-school program strives to provide a safe and nurturing environment built on five pillars: Bible knowledge, health and wellness, creative arts, social skills and education."