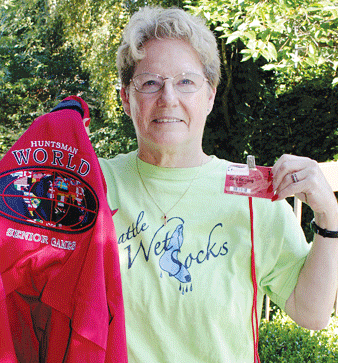 Baseball is in her blood
Seattle Temple Corps member plays softball in the World Senior Games.
By Joyce Johnston
Sally deJong, 67, a regular at the Seattle Temple Corps' Senior Lunch program, is a baseball/softball enthusiast who raised her own game to the next level this year when she played in the World Senior Games.
DeJong played her first game at age 7, and currently plays first base and catcher with the Seattle Sloops, a senior coed team.
In September, the Seattle Sloops placed second in a local tournament. During the tournament, deJong met two women from another team—Seattle Wet Socks—who were scouting for players to go to the Huntsman World Senior Games in St. George, Utah. They recruited deJong to play first base.
"The facilities were beautiful," deJong said. "There were five softball complexes, with three to five fields each. It was the 25th anniversary of the World Senior Games, and teams from all 50 states, plus 20 other countries, came with a grand total of 10,007 participants."
The Seattle Wet Socks played in the Women's 55+ category, losing all five games they played.
"Not to brag," deJong said, "but I did well with a batting average of .444 and an on-base average of .888."
When not actually playing, deJong is a seating hostess at the Seattle Mariners baseball games. She has been doing this for the past four years and enjoys watching the games up close—her station is behind first base—the fans, the music and half-priced hot dogs!