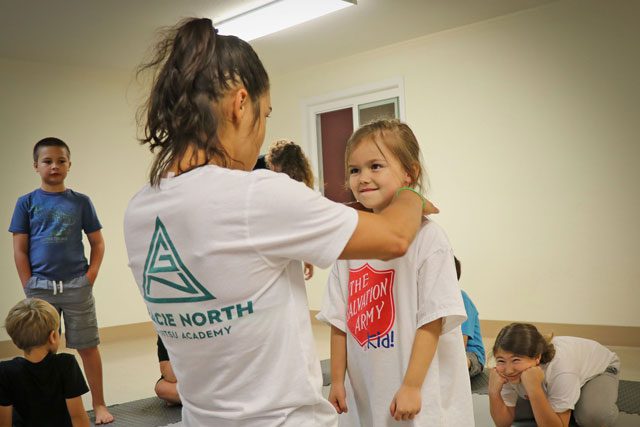 Auburn Corps hosts first-ever Gracie Roots Jiu-Jitsu Self-Defense Class
Three-day workshop could become an annual event.
By Vivian Lopez –
Lts. Aline and Jesse Posner noticed a disturbing trend after speaking with a few families at The Salvation Army Auburn Corps: there was a bullying problem in their community.
"We have been able to identify that there's a need in the community for kids to build their self-confidence," Aline Posner said. "There has been a lot of challenging situations that they have not been able to have the confidence to resolve. It just seems like there has been a lot of bullying happening in schools."
That's when the Posners reached out to Kuaun Gracie, a member of the famed Gracie family known for their development of Brazilian jiu-jitsu (BJJ), and daughter of Rickson Gracie, widely considered one of the greatest BJJ practitioners ever.
The younger Gracie was happy to help. She recently came to the corps to teach a Gracie Roots Jiu-Jitsu Self-Defense Class to youth ages 7-16. The course included introductions to self-defense and jiu-jitsu, self-defense vocabulary and moves, how not to get pushed or pulled around and standing your ground.
"I love working with kids, and I think it's really important for us to be able to give back to the community so I was definitely on board," said Gracie, who's also a graduate of Chapman University's BFA in Dance program. "It's all very disguised and very playful because they're kids. The ultimate goal is just for them to learn to stay calm so they know how to react…to whatever situation they're in."
Gracie also taught them essential martial arts codes of respect, discipline, empowerment, confidence, responsibility, partnership and teamwork.
"It's something you can take beyond just the scary situations into your everyday life—being calm when you're having stress or when there's an accident you just know how to react in that kind of way," Gracie said.
Kailynn Posner, 10, and Jasmine Alm, 13, were both happy they took the class.
"It made me feel more confident, strong and braver," Posner said. "If I was being bullied or my friends were being bullied, I can help them not get bullied."
Alm said the class taught her how to get out of sticky situations.
"It has given me relief knowing that I am able to defend myself and knowing that I can stand up for myself," Alm said. "We live alone; it's just my mom and I. I just want to protect my loved ones. Even though I am small, I can help."
Upon completing the class, the kids received a certificate, and some important life skills.
"They walk away with a little more confidence in themselves, feeling a little bit more empowered, and having a little bit more awareness of their body and what they're capable of and their own internal strength that they have," Gracie said.
Jesse Posner said there's much more to the class than the self-defense component.
"It is about building confidence, presence, and to stand-up for what is right and others," he said. "This way, through Christ, and the mentorship received, the youth can express themselves in a more productive way in stressful or hard situation."
"We just want to give them the tools for them…so they know how to defend themselves and just be confident while doing so," Aline Posner added. "Because a bully will be able to tell if you are confident or not."
Gracie said she's excited at the possibility of making the class an annual event and adding a women's self-defense course. There's even talk of expanding it beyond Auburn and into facilities in other communities.
"It's an honor to work with the kids at The Salvation Army. This is something that can really grow in the community of The Salvation Army and could be very beneficial for everyone," Gracie said. "I'm very proud of being able to pass on some of my family's martial arts."