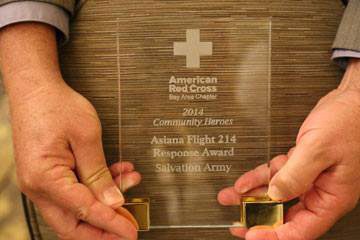 The Salvation Army honored For Asiana Flight 214 response
By Laine Hendricks –
Western Territory EDS director Ken Cavellero accepts award on behalf of the Army
The Salvation Army was presented with the "Non-Profit Organization Hero" award Sept. 25 at the 10th Annual San Francisco County Heroes Breakfast, hosted by American Red Cross Bay Area Chapter.  The Salvation Army was nominated for its response to the July 2013 Asiana Flight 214 crash in San Francisco.
During the aftermath of the Asiana Flight 214 crash, The Salvation Army provided a vital communication link between flight passengers and officials, providing Korean-, Cantonese-, and Mandarin-language translation assistance.
In addition to providing round-the-clock translators at the Family Assistance Center (FAC), Salvation Army volunteers also assisted during hospital or optometry visits to facilitate conversation between patients and medical personnel.
Salvation Army volunteers also provided emotional support including, accompanying passengers to the crash site just days after the crash, as well as being present in meetings between the coroner and the families of the girls killed in the crash.
"The Salvation Army is an international organization with great diversity in the Bay Area, including strong Chinese and Korean ministries," said Ken Cavellero, Emergency Disaster Services Director for The Salvation Army's Western USA Territory. "That diversity allowed us to bring in 77 Salvation Army officers, staff and volunteers to provide nearly 2,400 hours of service during the Asiana response."
In addition to volunteer support, The Salvation Army set up a "clothing room" at the FAC, allowing passengers to hand-select items to provide comfort while housed at the FAC—many whose luggage was lost in the crash. The clothing room contained brand new clothing and jackets, undergarments, luggage, toys for children, snacks, and phone and electronics charging stations.
"The Asiana Flight 214 response gave our agencies—Red Cross and Salvation Army—a chance to demonstrate that we can both work together to alleviate suffering," said Cavallero, who accepted the award on behalf of the many Salvation Army volunteers who contributed to the effort.
The American Red Cross Bay Area Chapter's annual Heroes Breakfast recognizes individuals and organizations that have shown courage, dedication, and character through acts of heroism and kindness.  American Red Cross chapters around the country hold events in their communities to recognize acts of heroism by local residents and pay tribute to those who have performed life-saving acts.