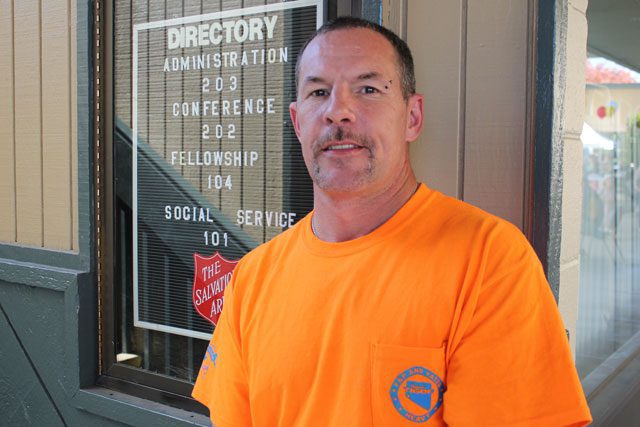 ARP grad risks life to stop robbery
By Sydney Fong – 
John Oliveira knows he is fortunate to be alive. And he has a one-inch scar under his left arm to remind him.
"I'm so lucky," said Oliveira, a 2012 graduate of The Salvation Army Reno (Nev.,) Adult Rehabilitation Program (ARP).
The mark was made over a month ago at a Reno shopping center.
"I was at CVS Pharmacy and I heard someone scream for help," he said. "I saw a guy who had a gun on this cash register lady. I didn't have time to think––I just reacted."
Oliveira approached the suspect, but he fled with his gun and money he stole from the register.
"I kept chasing him and he couldn't get out the doors," Oliveira said. "I finally tripped him and punched him a couple of times. I had him in a choke hold, and he was moving the gun back and forth. That's when he said, 'You don't want to do this.' I said, 'Why are you?' I pulled the gun as far as I could and then he fired it."
The bullet grazed Oliveira, but he suffered a deep laceration to his side. Oliveira released the choke hold and the gunman took off.
"I realized I was shot and I had so much live for," he said. "I was thinking to myself why I got involved."
Oliveira's actions didn't surprise those who knew him from his ARP days.
"Knowing John, from a person who was selfish to a man who cares for others, I can see where he picked up those qualities to do this," said Major Michael Zielinski, Reno corps officer. "Though what he did was very risky, John may have also saved that person's life."
According to Oliveira, his experience in the ARP was likely what gave him the strength to approach the suspect.
"If I wasn't in the [ARP] and if I didn't have God on my side, I probably wouldn't have done that," he said. "I used to be that guy, out there running and gunning and doing drugs. I was pretty much stopping my old past by stopping that criminal."