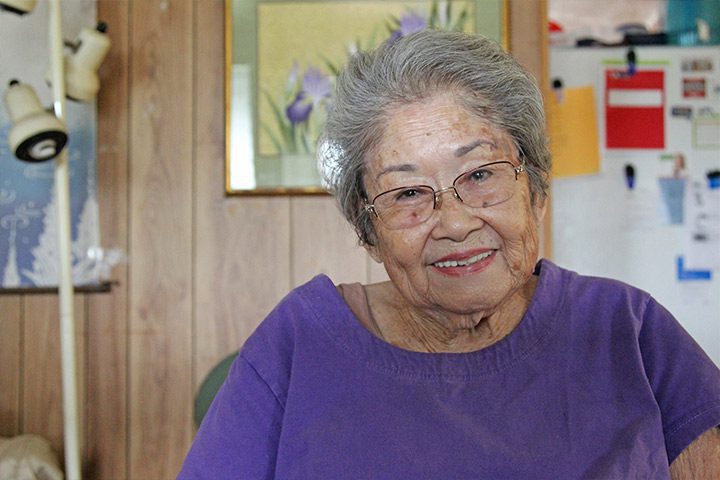 Army's acceptance creates lifelong loyalty
By Brandi Salas –
"The Salvation Army taught me how to cook a good Chicken Hekka in more ways than one," said 91-year-old Yoshiko "Dimples" Kano. Dimples is a life member of The Salvation Army Kauai Advisory Board and a volunteer at The Salvation Army Lihue Corps.
"I used to volunteer at the Kokua Soup Kitchen, standing on a stool to cut vegetables because I was too short," she said, laughing. "But I'm best known for my involvement with the organization's annual Thanksgiving Luncheon. I started volunteering for The Salvation Army in 1974. The Thanksgiving event is so big and so needed in our community. Do you know it took female power to plan and execute that event? Men used to plan it and once I saw how it was run, I asked to take over and I did it with pride," she said.
As a second-generation Japanese-American, Dimples has had many accomplishments as a female trailblazer on Kauai. She started working at the Lihue plantation and later began a career in real estate. Seeing an opportunity for female leaders in the business community, she joined the Zonta Club of Kauai, an organization that works toward the advancement of women.
"This was my time to further my career and encourage other women to take charge in their companies and volunteer in the community. The Salvation Army's Thanksgiving Luncheon was a part of my desire to execute a great event with fellow female volunteers," she said.
Dimples said The Salvation Army always had a special place in her heart.
"When I was little, we didn't really celebrate Thanksgiving. Being from Japan, my parents felt a little disconnected during the holidays. They first saw The Salvation Army's Thanksgiving Luncheon when they passed through town on Thanksgiving Day and they didn't think they would be accepted because they were Buddhist."
Dimples described her parents passing by again the next year, when a Salvation Army officer approached them. The entire family was invited to the luncheon.
"I saw so many races at the event," she said. "We were accepted and encouraged to come back to participate in activities and other events. This is also why I wanted to give back to The Salvation Army. We became integrated into the community and felt a part of a bigger ohana."
Dimples continues to give back and volunteers when she can.
"As I get older, it's getting hard for me to volunteer at Thanksgiving, but I make it a point to be there every year," she said. "I remember The Salvation Army accepting my family and they continue to do the same for other families in need today."