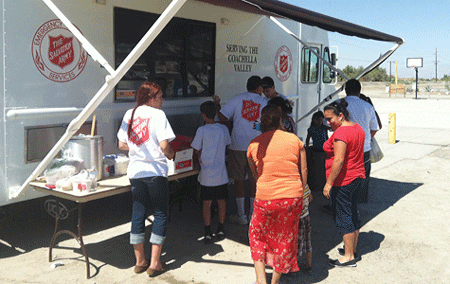 Army supplies necessities following desert flood
Mobile home park residents in Thermal, Calif., grateful for water, food
The Salvation Army in Cathedral City, Calif., mobilized its emergency disaster vehicle to provide meals and supplies for five days immediately following flooding in Thermal, Calif., in a mobile home park with 1,500 residents.
"In a desert community that gets roughly three inches of rain per year, the downpour of six inches in a 24-hour period was overwhelming to roadways, buildings and homes," said Corps Officer Lt. Bonita Kelsey. "The damage caused a state of emergency to be declared for the eastern end of the Coachella Valley."
Maria, a woman who has lived in the mobile park for the past seven years, had never seen it rain so hard. "The rain started coming down and the canal dismantled and all the water just came flooding in," she said.
Not only did the rain cause structural damage and power outages to some of the homes, but the well-water system became contaminated from the runoff of the landfill, located next door. The fire department and other agencies warned residents not to use the water for bathing, cooking or drinking. The need was great for clean water and prepared food.
The Salvation Army responded by serving two meals for approximately 500 people per day, as well as providing cases of water, hygiene kits, socks, towels, powdered milk, baby wipes, and small toys for the children.
Maria spoke for many: "Thank you Salvation Army, because it [gave] a lot of help."