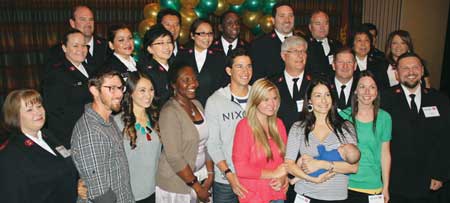 Army recognizes Oakland Athletics' significant others
Players' wives, fiancees and girlfriends awarded for volunteer work.
By Sydney Fong
The Oakland Metropolitan Chamber of Commerce partnered with The Salvation Army of Alameda County (Calif.) April 16 for a luncheon honoring the Oakland Athletics and their wives, fiancées and girlfriends for community service.
"The event not only showcased a great A's team, but also highlighted the great work the players' other halves have done with The Salvation Army," said Captain Dan Williams, Alameda County coordinator.
Last year, Oakland Garden Center Corps Officer Lt. Kyna Kelley tweeted one of the A's wives to see if she would be interested in volunteering at the family shelter, and she did.
Since then, many of the A's wives, fiancées and girlfriends volunteer regularly, reading to the children at the family shelter and child development center.
"It has been an amazing experience," said Christina Sarnecki, fiancée of pitcher Tommy Milone. "To me, it's not hard to go and spend some time with the kids and read to them. It's really a lot of fun."
Awards went to Sarnecki, Brooke Sizemore (wife of infielder Scott Sizemore), Kaycee Sogard (wife of infielder Eric Sogard), Kate Thoene (girlfriend of pitcher Jarrod Parker) and Abby Chavez (wife of bullpen catcher Casey Chavez).
Children from the child development center presented flowers to the award recipients.
"I honestly cried when the kids came out," Sarnecki said. "They were the same kids I read to. They were the same ones you're completely attached to when you're there. It was a touching experience."
Several Athletics players attended the luncheon, including Sogard and Milone.
"It's awesome for the wives, fiancées and girlfriends to be recognized," Milone said. "The Salvation Army does a great thing with what it does, and for the ladies to come in and volunteer, it's obviously a blessing as well."
More than 200 people attended the luncheon. Proceeds benefitted The Salvation Army of Alameda County and the Chamber of Commerce Foundation.
Athletics radio play-by-play announcer Ken Korach served as the event's master of ceremonies.