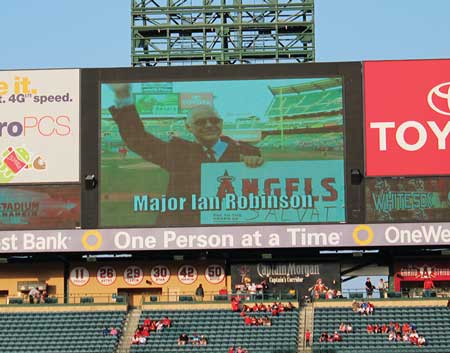 Army gets support from Angels
Salvation Army Night at Angel Stadium generates over $25,000.
By Kevin White
During National Salvation Army Week in May, over 350 Salvationists, advisory board members, friends and volunteers attended the annual Salvation Army Night at Angel Stadium in Anaheim, Calif., enjoying an evening of baseball while raising funds for Salvation Army programs across the county.
Through special ticket sales and support from the Orange County Advisory Board and the Angels, the effort raised over $25,000.
The evening included a pre-game catered dinner at the stadium and a concert by the Tustin Ranch Band, followed by an on-field check presentation to Major Ian Robinson (Orange County coordinator) and Bruce Freeman (Orange County director of development). A post-game fireworks show completed the evening.
The event reflected the strong relationship between the Army and the Angels, who provide vital warehouse space and resources each Christmas for the distribution of program items, as well hosting the annual baseball event.
Robert Alvarado, current vice president of marketing and ticket sales for the Angels and chairman of the Orange County Advisory Board, said, "For many years now, the Angels have been privileged to partner with the outstanding work that The Salvation Army is doing in Orange County. Army night at Angel Stadium was another example of a mutually beneficial relationship."