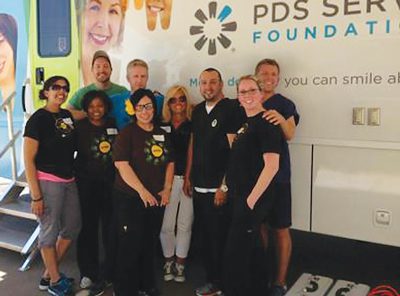 Army forms partnerships in Phoenix
American Express and Smile Generation-trusted dentists help community.
The Salvation Army in Phoenix teamed with American Express employees and Smile Generation dentists to provide essential resources for the community.
With the help of American Express, the Army collected 192,000 school supplies through its "Pack to School" drive. American Express employees collected the supplies, ensuring that more than 7,000 Valley of the Sun children returned to school with the tools they need.
The volunteers also spent several days at The Salvation Army warehouse counting, sorting and palletizing the materials to be sent to the schools. They then gathered at a local school to distribute supplies directly to the kids.
"The Salvation Army is grateful to America Express for their support of Pack to School," said Major John Brackenbury, Valley of the Sun program coordinator for The Salvation Army. "Not only are they amazingly generous, they also have some of the most hardworking and enthusiastic volunteers. We couldn't be successful without them."
The next day, a mobile dental clinic with Smile Generation-trusted clinicians and dental care teams visited Phoenix, volunteering their time to provide donated expertise to Phoenix-area community members in need.
In a matter of hours, the volunteers treated 51 patients, supplying more than $29,000 in donated dental services that included exams, x-rays and cleanings. The PDS® Serve Foundation mobile dental clinic helped clinicians provide quality care.
Lt. Colonel Joe Posillico, Southwest divisional commander for The Salvation Army, said, "The Salvation Army relies on donors to provide services like this day of donated dentistry—it makes such a big impact in the residents' lives."