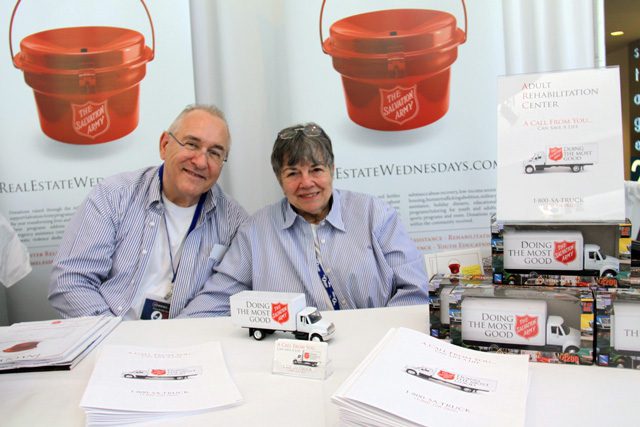 Real Estate Wednesdays creators bring focus to ARC
New initiative places ARC trucks and information on more than 200 title company desks.
By Marlene Klotz-Collins –
Two Scottsdale Realtors with a passion for The Salvation Army's Adult Rehabilitation Center (ARC) are engaging title companies throughout the Metropolitan Phoenix area in a new initiative to heighten awareness and support for the substance abuse recovery program.
JoAnn and Joseph Callaway, members of the Phoenix Advisory Board, nationally-recognized authors of two best-sellers and owners of Those Callaways, a highly-successful real estate firm, have given wheels to their passion.
The Callaways designed eye-catching trucks, filled with specially-designed business cards, to help draw attention to the mission and needs of the ARC. "Anyone who buys a home has to visit a title company and sit at a table to sign papers," Joseph Callaway said. "What better time to suggest a call to the Army for any household pick-ups? And what better place to display one of our trucks?"
The pair secured a donor to underwrite the truck costs and printed thousands of the business cards for display. More than 200 units have been delivered to valley title companies with opportunities for a national roll-out on the horizon.
"When we first toured the ARC and heard from a beneficiary how the Army had saved his life, we were deeply touched and knew that our colleagues in the real estate industry would be as well," JoAnn Callaway said. "We wanted to do something and genuinely felt the relationship between homeowners and professionals at all levels of our industry would be an ideal starting point. Response to this program has affirmed those feelings."
The Callaways have been guest speakers at forums throughout the country and wherever they go, they talk about The Salvation Army and how the industry in Arizona is embracing the organization. In their newest book, "Super Agent," four pages are dedicated to The Salvation Army, two of which specifically provide details of an industry program first introduced by the Callaways during the last Christmas season.
 "Real Estate Wednesdays" is designed to encourage members of the industry to adopt kettle locations on Wednesdays in December. Last year, more than 150 locations were adopted for each of the three days. This year, there will be four Real Estate Wednesdays and locations are filling up quickly. Participants include realtors, brokers, title companies, and credit unions.
"We are overwhelmed by JoAnn and Joseph's creativity and generosity and the entire real estate industry in our community and state," said Southwest Divisional Commander Lt. Col. Joe Posillico. "Their enthusiasm and passion are contagious and the embrace we  have felt from all levels of their industry has been extraordinary."
Details and turn-key materials for Real Estate Wednesdays are available at realestatewednesdays.com.