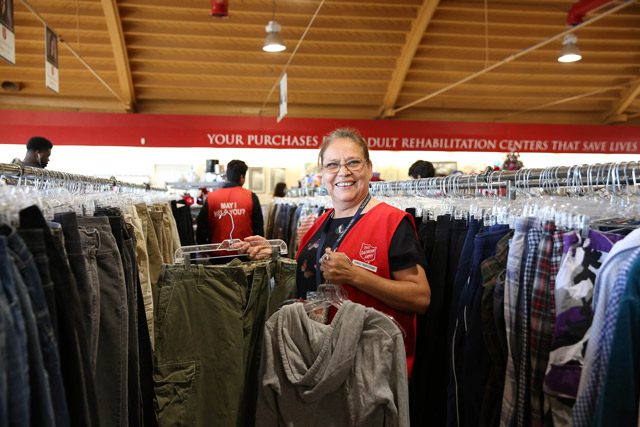 ARC: Full Speed Ahead
Command holds second summit.
By Hillary Jackson –
If you drop by the Santa Monica Adult Rehabilitation Center (ARC), you probably won't leave without getting a tour—and that's by design.
"No matter who it is who comes into our center, we give them a tour, and have them talk to a beneficiary," said Lt. Timothy Pemberton, Santa Monica ARC Administrator for Business. "We want to make sure that they know about our program, and we always hear: 'We didn't even know you guys did this here.' And once we hear that, we know we've got them."
These "I had no idea" comments are not isolated to the Santa Monica ARC. Throughout the Western Territory, many individuals are unaware of the rehabilitation services The Salvation Army provides, and administrators are hoping to change that.   
Officers from throughout the Western Territory's ARC Command gathered for a second ARC summit Jan. 15-16 at the College for Officer Training at Crestmont in Rancho Palos Verdes, California. The summit, themed "Full Speed Ahead," sought to follow up on the "Pruning and Planting" approach announced at the first summit, held in June 2019.
"Over the course of the next two days, we'll be talking about strategies for retail production, about building community relationships, but it's not about beating the competition," said Western Territorial Commander Commissioner Kenneth G. Hodder. "The next two days are about you and me taking the most successful [addiction] rehabilitation program in the nation and making it more available, making it more powerful, making it more impactful not only on the men and women who come to our centers, but for the generations that are yet to come." 
Now, roughly six months since the announcement of the new vertical ARC structure, the command gathered for updates and to generate creative ideas for ways to expand the awareness, impact and resources of the ARC. 
"The whole territory is rallying for us," said ARC Commander Major Henry Graciani during his opening remarks. "They are all in favor of having this ministry not survive, but thrive."
With the new vertical structure, ARC officers are tasked with focusing on the ministry and community relations pieces of the ARC, tasks they historically performed along with managing Family Stores. With the focus now mainly on the men and women in the ARC programs, ARC officers are freed up to invest in beneficiaries, and have been given the green light to make adherents. 
The summit urged ARC officers to build relationships with others in their community—to both spread the word about the ARC and help fundraise to meet an announced goal of 8 percent of this year's program costs. To aid the fundraising efforts, each ARC will have a special QR code and webpage. A pilot donation page for the Santa Monica ARC generated $3,000 in its first two days.
In addition to the traditional ways to bring in funds, the Pembertons shared how community partnerships have led to donations of items to be sold in Santa Monica's thrift stores. For example, Los Angeles International Airport (LAX) and the nearby Hilton hotel donate unclaimed lost and found items to the ARC—items that are often of high value, like iPads and iPhones. 
As Pemberton said, "These are new opportunities."