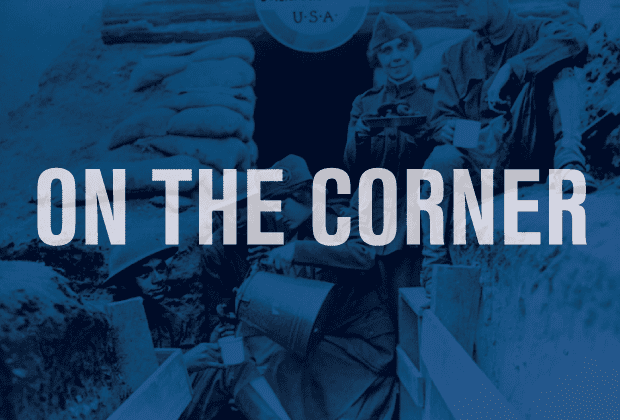 April thoughts
By Bob Docter –
January says: OK—I'm gonna start over.
February says: be kind. I'm small.
March says: bye, bye winter and roars a fearless roar.
And then, aaahh, April with showers and flowers, invites us in.
Welcome.
I have lived through multiple Aprils and have never been disappointed.
Spring reminds me of Jesus—his torture, his beating, his crucifixion and a new life. He did it all for me—and you.
Jesus said to me: "If you come to me you shall never thirst again; come if you are dry and drink a full supply of the sweet, sweet waters of the wells of home. He who comes to me shall never thirst again."               
Yes, it's April. Spring has had a 10-day start. Flowers make their presence known. They were dead and now they share their beauty bountifully with a generosity that always brings with it surprise and wonder. New life happens around us. Old life becomes distant. The human condition seems to capture an unrelenting motivation from the energy of our surroundings, our optimism concerning our future, and the joy we feel from one another. Moreover, we discover an awareness that this whole, old world, spinning just the right distance from the sun at exactly the right tilt, provides us seasons and stability in life itself.
Please know: this eventuality does not occur automatically. Flowers need planting and care. Only the most beautiful freely sprinkle their charm across open spaces. One must seek motivation for recovery among his or her lazy, hazy wants. If you want a new life, get God involved, work with a steady advisor. If you're interested in joining The Salvation Army, talk with the officer.
April often ushers in Easter, the triumph of a resurrected Christ. The Easter date, historically, had become the source of criticism by various denominations, and many determined the date differently. After a period of arguments about Easter's date, some of which became violent, the Pope sought assistance from Rome.  
April's most important gift to the world is the unwrapped gift of the open tomb. In the northern hemisphere, Easter's exact date every year falls on the first Sunday after the first full moon after the vernal equinox. It also introduces spring. This combination does not always occur in April. On occasion, it occurs in March. This year, for example, Easter occurred on March 27. Over the past 16 years, since 2000, March has celebrated Easter five times, while April Easter dates number 11.
It took Constantine himself, the supreme Roman emperor, to resolve a crisis in the churches of the known world.  He brought the leaders of the various denominations together in the year 325 in Nicaea, located today on a large lake within the modern Turkish city of Iznik. The conference was the first ecumenical gathering of all churches in all denominations with an attendance of approximately 1,800 leaders and priests.
There were several accomplishments for all of Christendom during the Council of Nicaea:
 

They were able to attain consensus on the nature of the Son of God's relationship with the Father in their acceptance that Jesus was co-eternal with God the Father, thus, proclaiming his divinity.

 

They created the Nicene Creed by establishing a uniform observance of the date of Easter and separated it from the Jewish calendar.

 

Even in the midst of significant differences, they were able to resolve highly emotional conflicts and accept a negotiated settlement.
This effort resolved differences within the meeting and the Creed. When the representatives returned it was a different question. Many congregations did not agree, and, I suspect, many blamed the representative. Another meeting was held much later, and the Nicene Creed gained a second edition.
So, what does the Bible say about church rules, and what are some major issues they still might face? Will it be Christian love or strict discipline?
Above all, love each other deeply, because love covers over a multitude of sins (1 Peter 4:8).
Those who sin are to be rebuked publicly so that others may take warning (1 Tim. 5:20).
If I speak in the tongues of men and of angels, but have not love, I am only a resounding gong or a clanging cymbal. I have the gift of prophecy and can fathom all mysteries and all knowledge, and if I have the faith that can move mountains, but have not love, I am nothing. If I give all I possess to the poor and surrender my body to the flame, but have not love, I gain nothing. Love is patient, love is kind. It does not envy, it  does not boast, it is not proud. It is not rude, it is not self-seeking, it is not easily angered, it  keeps no record of wrongs. Love does not delight in evil but rejoices with the truth, always hopes always perseveres. Love never fails (1 Cor. 13).
So, welcome April. Let us love one another with a selfless concern for the welfare of others.