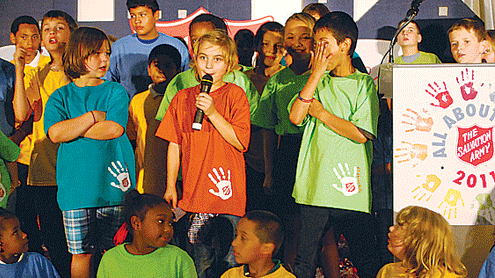 Annual All About Kids Dinner raises $230,000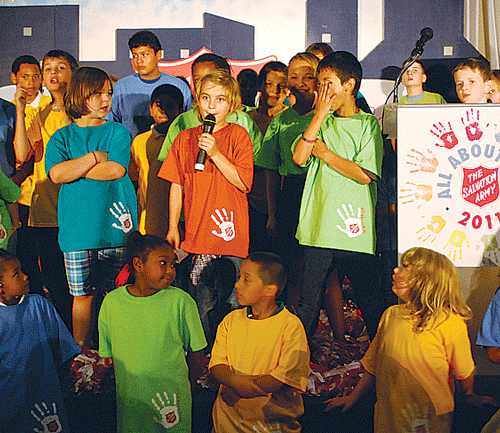 By Constance Grecco
In just a few hours, The Salvation Army's 17th annual All About Kids Dinner-—held Sept. 22 at the Oregon Zoo in Portland—raised $230,000.
Major Don Gilger, Portland Metro coordinator said, "This is entirely the Lord's blessing on a lot of hard work that will in turn benefit so many children in our community who desperately need it."
The dinner started with a children's choir made up of kids from Salvation Army corps across the metro area who energetically sang three worship songs. After the kids exited the room, Dave Scott of KINK FM took over as the emcee for the evening. He introduced Terry Dean, Portland Metro advisory board chair, on stage with him to present nine board, council and community members with several Salvation Army awards.
Following the annual dinner awards, a video that captured the yesterday, today and tomorrow of The Salvation Army's work over the years featured three people: a former client who gave birth at The Salvation Army's White Shield Center, the gentleman who runs the feeding program at the Tualatin Valley Citadel and the coach of the youth robotics program at the Gresham Center for Worship and Service. At the end, it showed a robot moving through a doorway, and as the video faded out, the robot itself turned the corner into the ballroom and made its way to the stage for a small demonstration.
Michael Allen Harrison, a renowned local pianist, presented and performed for the first time ever a song he wrote specifically for the event titled, "It's All About Kids." He humbly and genuinely reflected on how vital it is to keep supporting the children in The Salvation Army programs.
The event was sponsored by Fred Meyer Stores and Hoffman Construction.