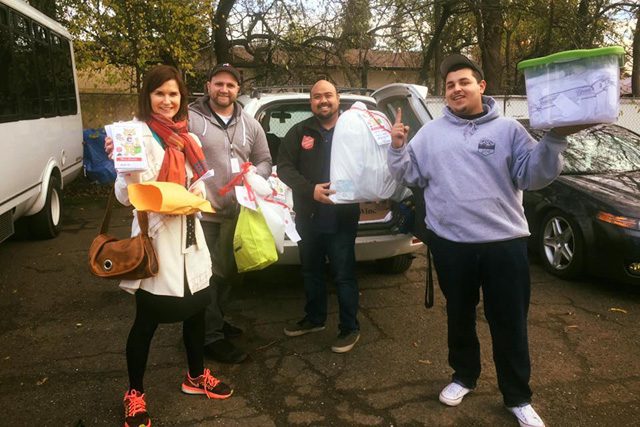 Angel Trees bring college students Christmas joy in Chico
Last year, the Chico Corps served 85 university students during the holidays.
By Vivian Lopez –
Each year, The Salvation Army Angel Tree Program transforms the holiday season for families in need throughout the USA Western Territory. But in the last few years, The Salvation Army Chico (California) Corps has transformed the program to include a unique population—college students facing poverty or homelessness in the area.
"A lot of times when we think of college, we think of upper or middle class people that have the privilege to get there," said Lt. Arwyn Rodriguera, Chico Corps Officer. "But a lot of people have worked really hard in order to change their socioeconomic status and life, and these are the fighters that we want to get behind and support because they want to be in a stable position and become leaders in their community."
The corps worked with Chico State University's Hungry Wildcats food pantry program for the last three years to sign up low-income students for an Angel Tree specifically for them, giving them basics such as dishes, bedding, clothes, gas cards and more.
This Christmas, the corps expanded its college student Angel Tree efforts to include about 50 working parents attending three campuses of Butte College in Chico.  
The partnership stemmed from the Oroville Corps' outreach efforts with the college, including supplying the college's Roadrunner Hub food pantry program with food for students. The Oroville Corps had also opened its Angel Tree Program to the children of students attending Butte College.
"No one's going to turn down free meaningful resources for hard working students, and Oroville Corps really opened that door to that," Rodriguera said.
Captain Julie Feist, Oroville Corps Officer, stressed the importance of reaching out to college students.
"I was really surprised at how many students at the junior college facility would be in need. It didn't cross my mind," Feist said. "It's really hard to concentrate on your studies if you're hungry and your basic needs aren't met. We feel that it's so important to support these students because they're trying to make a better life for themselves."
Martin Morales, a Chico State University student who now interns at the Hungry Wildcats Program, was once a recipient of the Chico Corps' college student Angel Tree Program.
In 2015, Morales found himself homeless before the fall semester of his freshman year at Chico State University. The university helped him secure housing until he received financial aid for the dorms. He said the Angel Tree gift that he received brought him joy after months of struggle.
"Having something as simple as the Angel Tree shows that we still do have people who care about us even if we don't see it every day," Morales said. "Christmas is kind of a difficult time for me because I don't get an opportunity to go home because my home is no longer my home because of certain situations beyond my control. So coming here to college, I spent every Christmas here in Chico. It just feels nice to get a present."
Rodriguera hopes the Angel Tree continues to encourage students while also connecting them to the corps. She aspires to continue building the corps' partnerships with Chico State University and Butte College.  
"We want to be that witness that they're not alone and Jesus loves them," she said. "We also want them to know that there's resources and just have some kind of connection with The Salvation Army going forward…and for us to be influenced by what the younger generation has to offer."