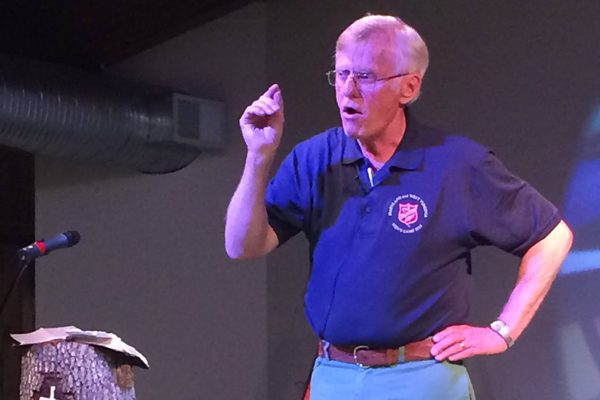 Bible studies build on 'Come to the Water' theme
Anchor Deep Bible Studies with Cotton Presley look at Isaiah 53–55.


"We 'anchored' in the person of Jesus Christ," said Cotton Presley, guest teacher from the Southern Territory, about the Anchor Deep Bible Studies during Commissioning weekend 2017.
Territorial Spiritual Life Development Secretary Major Clem Leslie noted that the theme was chosen specifically for the event. "The name 'Anchor Deep' originated with the theme Come To The Water," Leslie said. "It suggested that we need to be grounded in the Word just as a ship is grounded when it drops anchor."
Presley, a well-know speaker within The Salvation Army, led three Bible study sessions on bringing people to the living water of Christ, culminating in Isaiah 55.
The three sessions, while related, were independent of each other. They built on the triad of Isaiah 53–55, beginning with what Presley called "the incomparable 53rd chapter." The second and third sessions also included the pastoral epistles of Timothy, especially 2 Timothy, and Titus.
"We were a little bit eclectic," he said. "In the last session, we talked about Isaiah 55."
Presley, from Fayetteville, Arkansas, is a Vietnam War veteran, a graduate of the University of Arkansas, and recently retired as president of Modern Fence & Supply Company, where he worked for 36 years. He is a board-certified chaplain.
In 1986, Presley met Christ. At that time, he suffered from drug addiction and alcoholism. Soon thereafter, he met The Salvation Army while attending a 12-step meeting at a Salvation Army facility.
Although known primarily as an expositor of Scripture, Presley is still active in the 12-step program, considering it a primary mission field. He attends the Fayetteville Corps, where he has served as Corps Sergeant-Major and as a Sunday school teacher.
In addition, two sessions each of Bible studies in Korean and Spanish were offered to attendees. Los Angeles Korean Corps Officers Majors James and Joyce Lee and Prospective Candidates David Kim and Lainey Jung led the Korean sessions; Southern California Divisional Secretaries for Latino Ministry Lt. Colonels Zoilo and Magali Pardo and Siemon Center Latino Ministry Director Porfirio Amalfi Mendoza led the Spanish sessions.