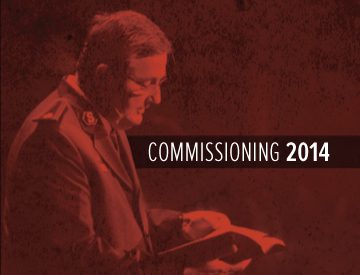 An urge to believe
Commissioning and ordination address
 By Caleb Montes, Lieutenant –
"Then Jesus said to his disciples, "Whoever wants to be my disciple must deny themselves and take up their cross and follow me" (Matt. 16:24).
I was blessed to be born into a Christian family. Yet, I failed to understand the true meaning of a disciple. A disciple is faithful, committed and obedient. Even though I had the desire to follow Christ, I failed to deny myself and take up my cross. The enemy attacked my mind with insecurities, making me believe I was not worth it, that I was useless to God. I then realized that I needed to surrender completely to God, take up my cross and follow his son Jesus Christ. By the power of the cross, he transformed my mind and assured me time and time again, that I am his precious creation. I finally understood that I was worth much more than I ever imagined, for I was bought with a high price at the cross. This truth set me free from my insecurities and I decided to follow God's perfect plan and purpose for my life.
Jesus challenged me to pick up my cross and follow him. This meant not looking back and no longer believing the lies of the enemy, but always moving forward. I decided to follow his footsteps, to walk in truth, taking every step in faith. Two years ago, I committed my life to follow Jesus and serve him as an officer of The Salvation Army. The journey has been challenging and rewarding at the same time. I stand here today, completely devoted to never take my eyes away from Jesus and the power of the cross, to never walk in any other direction than where he leads me and I will always, always, be obedient to his calling in my life. I pledge to be an obedient disciple.
God promised never to leave me or forsake me. He has showed me his faithfulness through the prayer and support I have received from my beautiful wife and two boys, my parents, through my family, my friends, my Crestmont family, and an Army of officers and soldiers raised by God.
God's timing is always the right timing. I believe with all my heart that God called me at the right time, to be part of a humble session, the Disciples of the Cross. And as one session, united, in this place and this hour, we declare that we will be officers that walk humbly in obedience. We promise to show up and work, in order to grow the Kingdom of God. We will seek daily a Chist-like attitude and a life of holiness. We will surrender to the transforming and renewing power of the Cross. We will be obedient disciples.
Our testimony is unanimously one of victory, because of what God has done in us and through us. We were once living in sin, heading to destruction and death. But by the sacrifice of Jesus and the power of the cross, we are forgiven, we are transformed, we are renewed, we are alive, we are free, we are Disciples of the Cross.
God is not done yet and we are confident of this: that He who began a good work in us will carry it on to completion until the day of Christ Jesus (Phil. 1:6).
Friends, family and members of The Salvation Army, I urge you: Surrender to the perfect will of God, believe in the power of the cross, because greater things are yet to come.