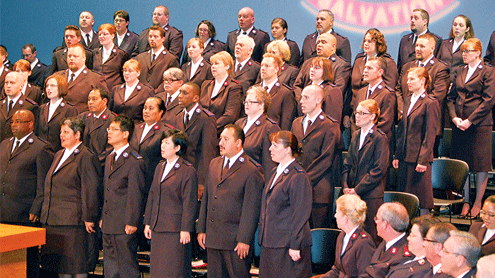 Ambassadors become officers
A Pentecostal ordination
52 Ambassadors of Holiness commissioned
By Christin Davis
On Pentecost Sunday, June 12, the 52 Ambassadors of Holiness were ordained and commissioned as officers in The Salvation Army as part of this year's "Spirit Aflame" Commissioning weekend. Pentecost—50 days following Easter Sunday—annually commemorates the descending of the Holy Spirit on the disciples after the resurrection of Jesus.
In a meeting aptly centered on holiness, Colonel William Harfoot, chief secretary, presided and conducted the affirmation of faith as the session recited its declaration of belief and promise to proclaim them.
"This session of cadets came to [training] as individuals called by God," said Major Tim Foley, College for Officers Training principal, in his commendation of the session. "They came as a family of believers, each to begin their own journey and answer the call to serve as officers in The Salvation Army."
To each individual, Commissioner James Knaggs, territorial commander, said, "We rejoice that God has called you, has equipped you and gifted you for sacred service and therefore we now ordain you as a minister of the gospel of Jesus Christ and commission you as an officer in The Salvation Army." He recited this in Korean to both Lts. Mi-Hyun and Se Weon Han, from the Korean Territory. Commissioner Carolyn Knaggs read each one's favorite piece of Scripture before the newly commissioned officer prayed at the mercy seat with a member of the West's Territorial Executive Council.
"I am, by grace, his choice," the united session then sang in dedication of itself, along with the Friends of Christ session.
In her testimony, Lt. Liane Newcomb shared feelings of belonging and rightness in Jesus that replaced those of betrayal and abandonment she carried after her father left her family when she was a teenager.
"Being a part of The Salvation Army is being a part of a large family, or ohana as the Hawaiians say," Newcomb said. "It's an ohana that loves and nurtures you. God has transformed me daily during my training at Crestmont to be a Blood and Fire officer. I would not have missed this journey for the world."
James Knaggs spoke from Acts 1 and 2. "But you will receive power when the Holy Spirit comes on you; and you will be my witnesses in Jerusalem, and in all Judea and Samaria, and to the ends of the earth" (1:8 NIV).
"What does this mean?" Knaggs asked. "A promise—we have access to a grace that only comes by Jesus Christ, eternal life, and joy in life right here. Power—we are saved, sanctified and have full salvation in Christ. And proof—we are his witnesses to the ends of the earth.
"In Acts 2:1-13, we are brought all together in the promise," he said. "We have power, filled with the Holy Spirit. And we have all heard the 'wonders of God.'"
Knaggs offered an open altar to attendees as the cadets prayed in family clusters throughout the audience.
"If not us, who?" he questioned of the congregation. "If not now, when?"
Watch the meeting at bit.ly/ordination2011.