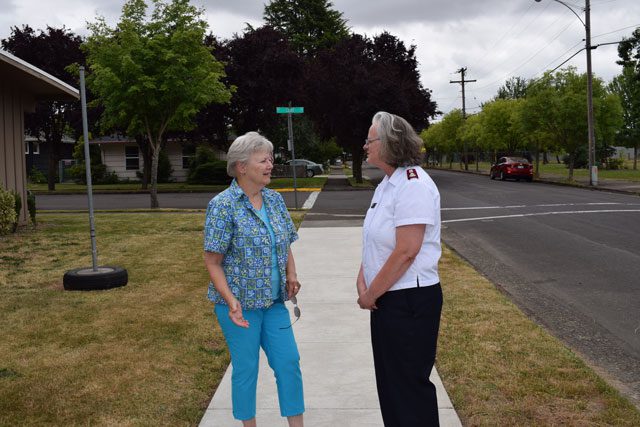 Albany takes church into the community
'Operation Jericho' brings prayer to nearby neighborhoods.
Albany (Oregon) Corps members left the church walls behind and took to neighborhood streets for "Operation Jericho," a seven-week prayer walk and outreach initiative. Three teams walked and prayed in nearby neighborhoods and one team supported the walkers in prayer at the corps.
Corps Officer Major Bill Hathorn said that the Jericho walk is based on Joshua 6, when the Israelites marched around the city of Jericho for six days, and on the seventh day they shouted and the walls of the city came down.
"The idea of our Jericho walk was to select neighborhoods our teams would cover, to walk those areas for six weeks and in the seventh week make visits to homes in those areas," Hathorn said.
During the visitation week, Operation Jericho participants invited people to attend corps programs, Hathorn said, "so they may have the opportunity to get involved and come to the saving knowledge of Jesus Christ."
The corps has held Operation Jericho for two years. Hathorn initiated the walk in 2016 and Major Floyd Bacon coordinated it this year. Both years the walk has proved to be a successful outreach.
When a woman approached a team member who had been faithfully praying on her street, he explained that he was praying for the neighborhood and invited her to Sunday worship service.
"She came and invited a gentleman that lives next door," Major Brenda Hathorn said. "Both of them have been coming very faithfully every Sunday. She has joined Home League and attended the women's retreat. Now they are both just part of the family."
In addition to Operation Jericho, the Albany Corps goes to city parks three times during the summer with its band, offering music and a barbecue meal for all.