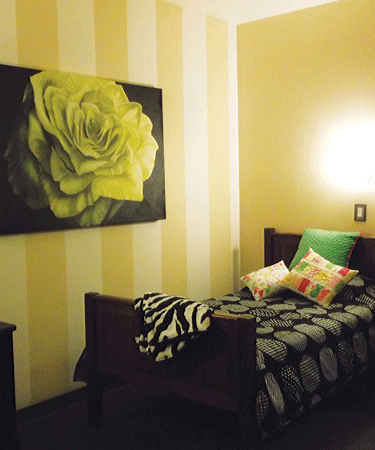 Alaska's Booth Home—from institutional to stunning
Design project transforms seven outdated bedrooms into works of art.
By Jenni Ragland
Seven bedrooms, once "institutionally decorated," at The Salvation Army's Booth Memorial Youth and Family Services facility in Anchorage, Alaska, now resemble four-star hotel rooms thanks to community partnerships.
Donated materials and labor—60 volunteers, 900 hours—valued at almost $100,000 enabled the facility to renovate the bedrooms with new paint, carpeting, window treatments, artwork and furnishings.
"Of all the projects I've helped organize in Anchorage, none has been so well supported and come together as quickly as this did," said Cindy Curtis, Anchorage Advisory Board member who helped spearhead the project.
Various room designers created visions for their selected rooms, resulting in myriad designs and colors. RIM Design, RIM Architects and RIM First People & Cornerstone Construction designed a "You-nique" room. The Anchorage Zonta Club developed the "Yellow Rose" room while CH2MHill created the "Berry Room," reminiscent of Alaskan summers. The "Pink Blossom" room—with rich chocolate brown tones and pink blossoms—was the dream of the American Society of Interior Designers. Carter Financial Group brought the outdoors inside with birch logs in their "Spice Fields" room. "Wisteria," by Medical Park Family Care, offers a spa-like retreat. And the Lasswell family completed "Quiet Comfort" for staff members that stay overnight in the residence.
Eastside Carpet installed the carpeting and Truman Newsome and Art Barlow, retired electricians, put in the extensive rewiring and electrical upgrades.
Tom Nottle, interim administrator, spoke at the Room Renovation Celebration.
"If you could know the very difficult and often abusive situations that result in girls coming to our program, you would understand they've not likely seen such spontaneous generosity and kindness being shown to them," he said. "Every day at Booth we say this is a house of care and this project has helped express that to our clients."