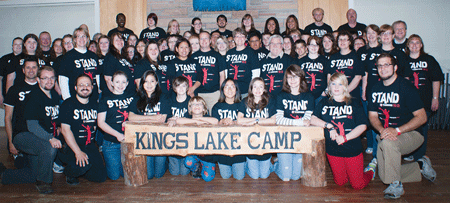 Alaska youth take a stand for Jesus
By Mark Thielenhaus, Major
On a beautiful day in Southcentral Alaska young people and leaders gathered together at King's Lake Camp in Wasilla for The Salvation Army Youth Councils 2012 to take a "Stand for Jesus." Communities in Alaska from Anchorage, Kenai, Mat-Su Valley, Fairbanks, Juneau, Sitka, Klawock, and Wrangell were represented.
The 33 delegates were joined by Divisional Leaders Majors George and Jeanne Baker, as well as special guests Majors John and Pam Brackenbury, Captains Roy and Paula Wild, and Lt. Colonels Victor and Joan Doughty.
In the opening session Captain Paula Wild talked about standing for others and facing our fears, Lt. Colonels Victor and Joan Doughty spoke on standing in faith even in the face of death, and Major Pam Brackenbury talked about world and cultures colliding and how the church needs 100 percent of us standing firm in our faith.
Workshops challenged delegates to put their faith into action. Stephanie Freeman presented information on social justice, and the corps had a chance to strategically plan what they would do to impact their communities when they arrived home. Captain Roy Wild shared about how we must stand for others living a holy life of love.
Seventeen young people physically took a stand during altar call as they accepted the challenge to stand for Christ in their world. During the weekend two young people came to salvation and others  renewed their calling to officership.
First time youth council delegate, Emily Thielenhaus, said she interacted with kids from around the state she would never have met otherwise, and that during a break-out session her corps group discussed how they could help with their corps next vacation Bible school as well as plans for a fundraiser to provide care boxes for those in need.