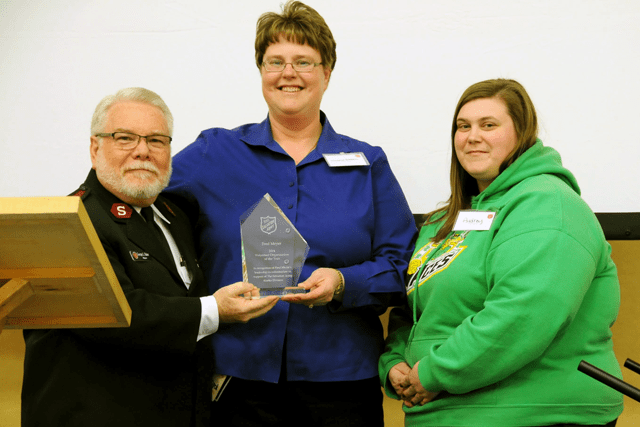 Alaska volunteers honored
Division acknowledges the commitment of its supporters.
The Salvation Army Alaska Division honored standout volunteers during its Gratitude Gathering, which celebrated the division's supporters—both donors and volunteers—with the Northern Lights Award, the Bell-Ringer of the Year and the Volunteer Organization of the Year.
The Northern Lights Award, started in 2012, recognizes outstanding service by community members, board members, or Salvation Army officers and soldiers whose character, action and commitment have influenced widespread inspiration and loyalty. Anchorage resident Leah Hoffman received the award this year after serving as an active member since 1983 of the Anchorage Women's Auxiliary, a group of women who volunteer their time and leadership to support ministry in their community.
Hoffman is known for her "selfless character and leadership, which have helped build our Anchorage community," said Divisional Commander Major George Baker. "In recognition of her more than 30 years of service, her devotion to and friendship with The Salvation Army Alaska, I am pleased to present Leah with this award."
A new award this year to acknowledge outstanding efforts of those who ring bells during the annual Red Kettle Campaign, the Bell-Ringer of the Year Award went to David and Carol Blacketer of Kodiak, who have been ringing bells for The Salvation Army for more than 10 years. David Blacketer is the Kodiak Corps' sergeant major, as well as a member of Alaska's Commission on Aging. The couple received the award at the Kodiak Crab Festival.
In addition, the Anchorage Downtown Rotary received the Bell-Ringer of the Year Award as an organization. Its members have volunteered more than 224 bell-ringing hours and raised more than $43,000 over seven years of service.
Fred Meyer of Alaska was named Volunteer Organization of the Year. Fred Meyer stores regularly organize teams of volunteers for Salvation Army initiatives to help Alaskans, from providing staffing for the annual Christmas food-and-gift giving event "Anchorage GIFT," to ensuring that children across the state receive warm winter clothing through Coats for Kids. The company also supports The Salvation Army through the Fred Meyer Rewards Program.
Nominations for all statewide awards are accepted year-round.