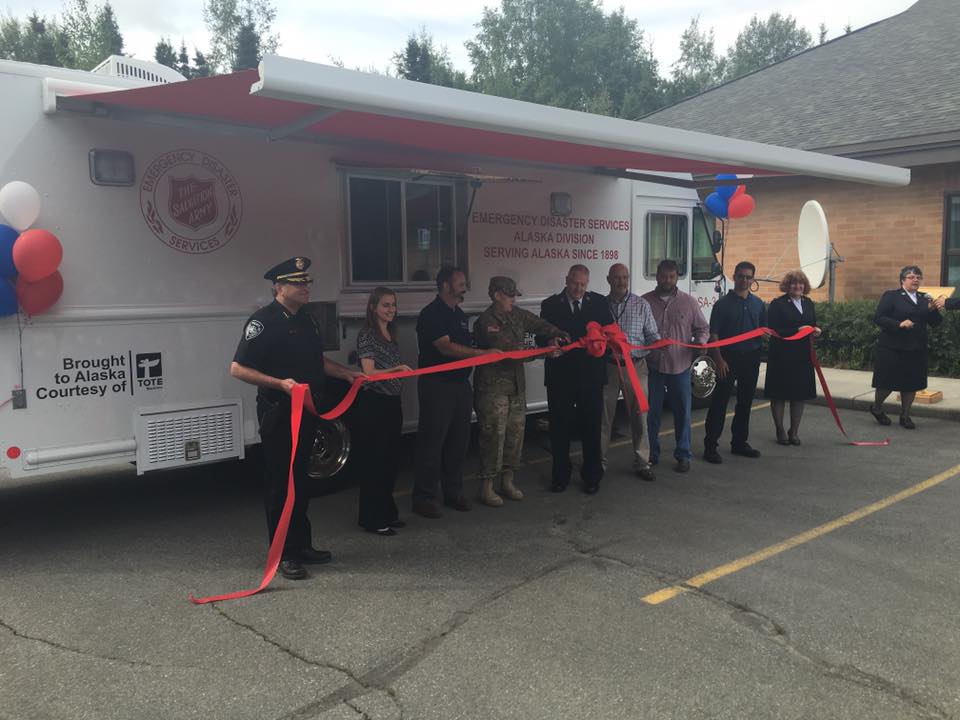 Alaska Salvation Army dedicates new state-of-the-art EDS canteen
Divisional Commander Major Mike Dickinson presides at dedication ceremony for the new mobile kitchen.
Salvation Army Alaska Divisional Commander Major Mike Dickinson presided over the dedication of a new emergency mobile kitchen–or canteen–built specifically for use in Alaska's extreme winter weather conditions and to provide year-round feeding support during times of crisis. The June 30 ceremony at The Salvation Army SAFE Campus in Anchorage was the first official event for Dickinson and his wife, Cindy (divisional director of women's ministries), who came to Alaska after serving as pastors and administrators of the Phoenix South Mountain Kroc Corps Community Center.
Mobile emergency kitchens are utilized by The Salvation Army in disasters and emergency situations all across the world.
"With the addition of this unit, we will have three emergency mobile kitchens in Alaska," said Jenni Ragland, director of emergency disaster services for The Salvation Army in Alaska. "One of the units, currently in Anchorage, will be relocated to Juneau to better serve the entire state… And while we hope for a quiet season, we now have this beautiful new mobile kitchen that will provide for the needs of Alaskans during times of crisis."
Salvation Army canteens offer more than just  physical sustenance.
"While we mobilize quickly to deliver food and hydration support for first responders and disaster survivors, just as important is the support offered through our emotional and spiritual care ministry to provide comfort and a listening ear to those feeling uncertain in the midst of crisis," Ragland said.
The new canteen–with a capacity of 1,500 meals a day–is winterized with extra interior and under body insulation and drop-down chains for use in extreme winter driving conditions. Customs Sales and Service, a 63-year-old company located in New Jersey, built the mobile unit. The company has extensive experience building canteens for The Salvation Army in the lower 48 states, Hawaii and Canada.
"The Salvation Army's first emergency disaster assistance effort in the U.S. dates back to the Galveston, Texas, hurricane in 1900," Mike Dickinson said.  "Since then, emergency canteens have been deployed in support of every major disaster event across the U.S., including 9-11, Hurricane Katrina, Hurricane Sandy, wildfires in Washington, Colorado, California and Alaska, and flooding in Texas. They also have been deployed to assist during search and rescue operations and follow human-caused disasters, such as the [recent] mass casualty event in Orlando, Florida.
In Alaska, The Salvation Army's EDS has deployed emergency mobile kitchens to provide support during flooding and wildfires. Last year, a canteen provided meals for Willow residents evacuated during the Sockeye fire; nearly 4,000 meals were served.
Funding for the mobile emergency unit was a culmination of two years of work by the State of Alaska Division of Homeland Security and Emergency Management (DHS&EM) and The Salvation Army.  TOTE Maritime donated the cost of shipping the emergency unit from the Port of Tacoma to the Port of Anchorage.
Volunteers are essential to help ensure The Salvation Army is ready to mobilize and respond. For information about volunteering with the EDS ministry,  visit disaster.salvationarmyusa.org.