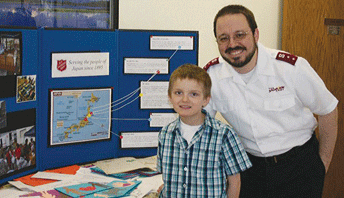 'Alaska Kids Sharing Smiles'
Anchorage boy spearheads effort to send letters and cards to schoolchildren in Japan.
Sagen Cottrell, a second-grade student at Bear Valley Elementary in Anchorage, Alaska, wanted to do something for the children of Japan when he found out that many of them were left with nothing after the March earthquake and tsunami.
Shipping items like blankets and clothing would be difficult, so Cottrell decided that sending letters and cards was the way to go. With the help of his mother, Grayce Dobson, the project expanded. They contacted The Salvation Army in Anchorage and "Alaska Kids Sharing Smiles" was underway. Other area elementary schools joined the effort, including Rogers Park, Abbott Loop, Bowman Elementary, Scenic Park, Denali Elementary, Lake Hood, Creekside, Huffman and Lake Otis.
One day after school in early April, Cottrell delivered the letters and cards—all made by local schoolchildren—to The Salvation Army's Divisional Headquarters in Anchorage for distribution to Japan, hoping to "share some smiles" with that country's children.
Captain Mark Thielenhaus, Alaska divisional youth secretary, said, "It was great meeting Sagen and seeing all the cards he collected. I was humbled by the time and effort the kids took to bless the children in Japan."
To donate to The Salvation Army's disaster relief work in Japan: Text the words "Japan" or "Quake" to 80888 to make a $10 donation; phone 1-800-SAL-ARMY, go online to www.salvationarmy.org or mail a check to The Salvation Army World Service Office, International Relief Fund, PO Box 630728, Baltimore, Md. 21263-0728. Designate your donation for "Japan earthquake/tsunami."