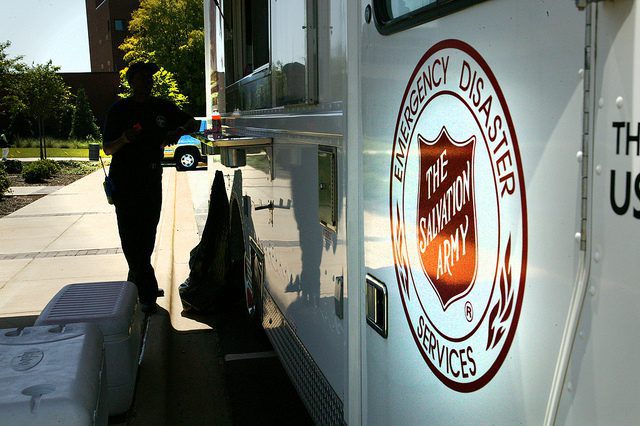 Alaska works to grow, improve disaster response
Division's inaugural EDS training camp gauges community interest.
By Karen Gleason – 
Jenni Ragland was just weeks into her new position as The Salvation Army Alaska Division Emergency Disaster Services (EDS) director when the Galena flood occurred last year.
"Instead of trial by fire, it was trial by flood," she said. With no formal plans, Ragland and her team rallied for months to help the city regain stability.
Now more than a year removed from the Galena flood, Ragland is developing Alaska's new EDS department to be even better equipped in the event of another disaster.
Ragland held the division's first EDS training camp in September to unite Salvationists and other community members interested in EDS response. While she had access to a national database of names of potential volunteers, no process existed to reach out to those people.
"Training is critical," she said. "The camp provided an opportunity to engage people and to explain the needs of The Salvation Army. We're creating awareness and building a team that can respond in the event of an emergency."
According to Ragland, a "lack of infrastructure" makes EDS planning particularly important in Alaska. The state's road system exists mainly in the urban centers of Anchorage and Fairbanks, leaving 55 percent of residents potentially unreachable in rural areas following a disaster. According to the Alaska Federal Health Care Partnership, over 70 percent of the state is not accessible by road. Hundreds of communities are only accessible by river, airplane or snowmobile. The isolation is compounded by poor communication systems, lack of reliable water and sewer systems and limited access to medical care and food supplies in some remote areas. Therefore, Alaska's EDS department encourages people to have seven to 21 days of emergency supplies on hand as opposed to the three to seven-day supply recommended in the lower 48 states.
Ragland has prompted others to consider emergency preparedness.
Lt. Lance Walters in Juneau is part of a group revising the emergency response plan for the community, and in Haines, Lt. Dave Kyle participated in a town emergency planning session. In the Anchorage metro area, an area response team is working to ensure the Anchorage Corps can be used as a shelter, and Ragland is also looking to secure a seat for The Salvation Army at the local and state emergency centers there.
According to Lt. Darla Malone, assistant corp officer in Anchorage, The Salvation Army is seeking to become part of the network of churches as a Cold Weather Overflow Shelter and identifying volunteers who would help host families.
From building better communications systems to preparedness kits at corps, Ragland said, "In the future more people in the division will be ready to respond."