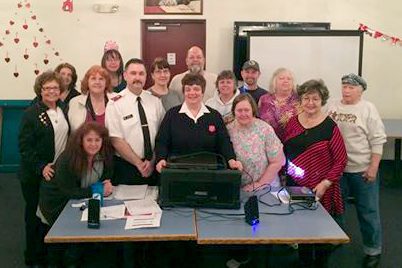 EDS training in Juneau
The Salvation Army holds training course at the Juneau Moose Lodge
Fifteen people attended The Salvation Army's Emergency Assistance in Disaster Operations course, held at the Moose Lodge in Juneau, Alaska.
Jenni Ragland, service extension director and EDS director for The Salvation Army in Alaska, who conducted the open, community-wide training, said this may have been the first instance of The Salvation Army partnering with a Moose Lodge to provide emergency disaster services (EDS) training.
Carol Pitts, Juneau Corps soldier and member of the Women of the Moose, helped coordinate the event.
"[Pitts] was excited to be able to help build a bridge between two organizations she has a great love for and gives much time and energy to support," Ragland said.
Participants included Juneau's emergency program manager, a Southeast Alaska Red Cross representative and the Moose Grand Council chairperson, who, Ragland says, hopes to expand the training to Moose members in Anchorage, Sitka and possibly Ketchikan.
"The Salvation Army is written into the city's response plan for any disaster and this recent training sparked interest and support from Juneau's city manager and its [Local Emergency Planning Committee] members," said Lt. Lance Walters, Juneau corps officer. "The training helps build a team of trained volunteers who support the work of The Salvation Army here in Juneau."
Ragland notes a growing interest in building an EDS ministry in Juneau.
"This was the second class here within a year," she said, "and I will be back in Juneau teaching two more classes in conjunction with The Salvation Army's Alaska Congress, March 19-22."