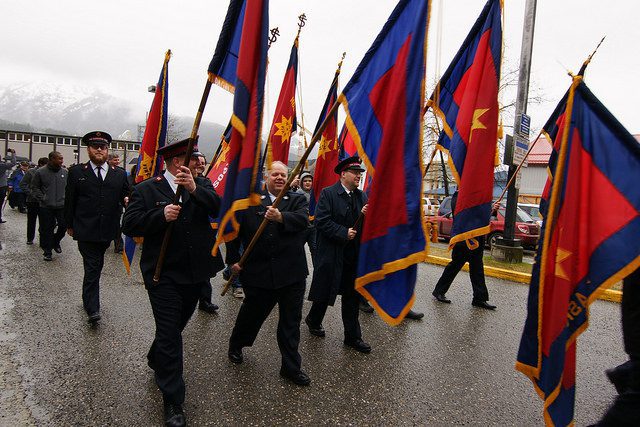 Alaska Salvationists gather for annual Congress
Alaska Congress is "a time of spiritual renewal," education.
Juneau, Alaska, welcomed a visiting "army" when dozens of members of The Salvation Army assembled March 19-22 for an annual gathering called "Congress"–a Southeast Alaskan tradition since at least 1918.
This year's event took advantage of Juneau's size by bringing together Salvationists and friends of The Salvation Army from across the state. Organizers planned for 300 participants, well over the 125 who attended Congress last year in Kake, where the number that could attend was reduced due to the village's limited accommodations.
"This is one of the few times the entire Alaska Division will be coming together," Alaska Divisional Secretary Major Daniel Freeman said.
Special guests included Colonels Dave and Sharron Hudson, Western territorial chief secretary and secretary for women's ministries, respectively, and the Western Territory Staff Songsters.
All Alaska Salvation Army officers were expected at the event, since the division will not have its traditional summer family camp due to Boundless 2015 happening July 1-5 in London.
The meeting fused elements of Alaska Native culture and Salvationist culture for a uniquely Alaskan Salvation Army celebration. One reason The Salvation Army has survived and flourished in the state, Freeman said, is because "our approach has always been to work with the existing culture." The earliest recorded Salvation Army Congress was in Kake, Alaska, in 1918.
Most Congress events are aimed at officers and members of The Salvation Army church. "It's a time for our officers to get together and be refreshed and encouraged," Freeman said. The meeting is also an opportunity for education. This year, an Emergency and Disaster Services (EDS) training, the Ministry of Presence, was open to anyone interested in learning basic principles of responsible and appropriate emotional and spiritual care on disaster operations.
Public events at this year's Congress also included a concert by the Western Territory Staff Songsters, a choir of 38 singers from various parts of the western U.S. Formed in 2007, the group is comprised of members from many walks of life, all involved in ministry at their local Salvation Army corps. They serve without compensation, volunteering as an expression of their commitment to God. The Staff Songsters have produced two recordings to date: "Day of Rejoicing" (a co-release with the Western Territorial Band in 2011) and "Love's Call" (June 2013).
Another public event was the traditional "March of Witness and Open Air," which involves "old-fashioned preaching" as well as a parade that proceeded up Willoughby Ave., looping around Village Street to end back at Centennial Hall.
Traditionally designed to share a message of love and faith with the community, such marches and "open airs" are as much a part of Alaska's history as is the gold rush. In fact, The Salvation Army's first open air in Alaska was held in 1898 in Skagway "within earshot of Soapy Smith's saloon," in hopes of converting the notorious criminal. The 2015 open-air march culminated in a bazaar, with natural and handmade goods for sale from various communities, from beadwork to Hoonah seaweed.