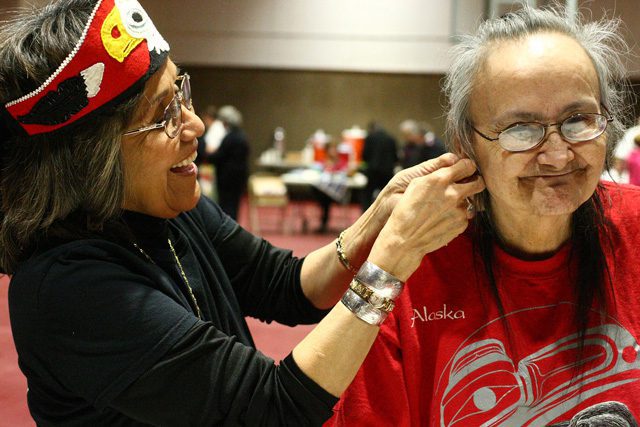 Alaska Congress meets in Hoonah
By Robert DeBerry –

With the USA Western Territorial leaders on hand, The Salvation Army held its 100th annual Alaska Congress in Hoonah April 5–8.
The Salvation Army has been gathering for congress in Southeast Alaska since 1918 in a tradition that combines Alaska Native and Salvation Army cultures for a unique celebration.
The congress theme, "Christ and Him Crucified," was based on 1 Corinthians 2:2: For I resolved to know nothing while I was with you except Jesus Christ and Him crucified.
"We acknowledge that the strength of this Army does not lie in education or skills or abilities," Territorial Commander Commissioner Kenneth G. Hodder said before the congress. "The power of our Army lies in the degree to which we are committed to the gospel itself. So, it's not about you. It's not about me. It's not about us. It's about Christ and Him Crucified."
More than 100 attendees gathered in fellowship for worship, prayer, March of Witness and Open Air—celebrating the living presence Jesus Christ.
Klawock Corps Officer Lt. Stephen Hartt described the congress experience.
"Just seeing our own delegates go to the mercy seat, seeing them go to the altar and give their life to Christ—that was a very genuine, authentic experience," he said. "Asking God for forgiveness and beginning new, that was just really amazing to see.
"I am excited to continue to engage the people at my corps spiritually and encourage them to keep growing even after congress."