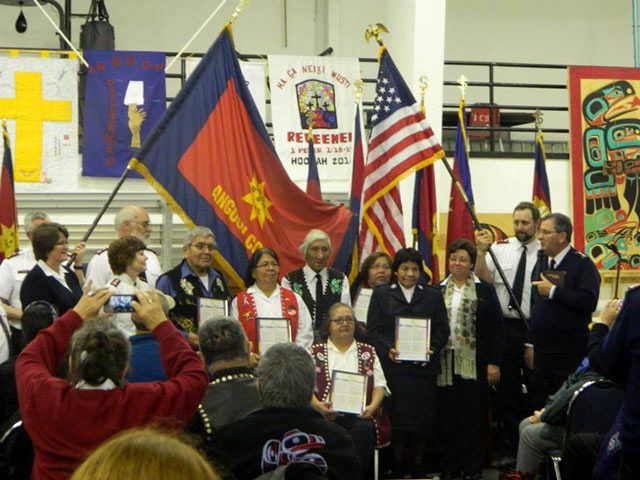 Kake hosts annual Alaska Congress
Salvationism and Native culture celebrated at annual event.
The tiny city of Kake, Alaska—population just over 550—hosted The Salvation Army's annual Alaska Congress, April 3-5. Themed "Redeemed," the congress drew more than 160 people, who traveled by airplane, air taxis, the Alaska ferry system, water taxis and tour boats to reach Kake, located on the northwest coast of Kupreanof Island in Southeast Alaska.
Commissioners James and Carolyn Knaggs, Western territorial leaders, led the meeting with Majors George and Jeanne Baker, Alaska divisional leaders. The host corps, Kake, is led by Lts. Mike and Noel Evans.
This year's event included a special welcome to the Angoon Corps, which reopened last summer after being closed for nine years. Despite the official closure, soldiers of the corps continued to maintain the corps buildings while praying for the return of The Salvation Army.
Angoon Corps Officers Majors John and Catherine Quinn accepted the Angoon Corps flag from Knaggs, who later led the Angoon soldiers in a time of rededication under the flag.
Along with separate rallies for women, men and children, the congress featured a bazaar with homemade goods from seal oil to Salvationist origami for sale. Delegates also participated in a traditional Army parade of witness, singing to the accompaniment of drums while marching through downtown Kake.
The city of Kake and its people welcomed the visitors, with some residents even opening their homes to soldiers and officers who needed a place to stay due to limited public lodging.
"The spirit and warmth of the people of Kake were evident throughout the weekend," George Baker said. "It was also a joy to see the other Kake congregations unite with us in worship Sunday morning."
[gss ids="7333,7335,7326,7328,7329,7325,7324,7323,7327,7331,7332″]
The Keex' Kwaan Native dancers performed at the welcome meeting, offering Tlingit dance and song, and bid the visitors farewell during the final meeting.
"Even more important than the fellowship and the celebration of our identity as Salvationists was the fact that the Holy Spirit was working through and among us the entire time," said Major Daniel Freeman, Alaska divisional secretary. "It was a true blessing to see so many people find redemption through Jesus Christ and commit themselves to living redeemed lives."
Next year's congress will take place in Juneau.