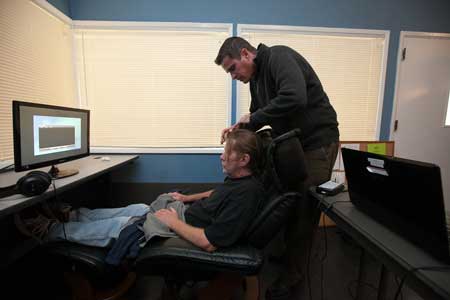 Addressing PTSD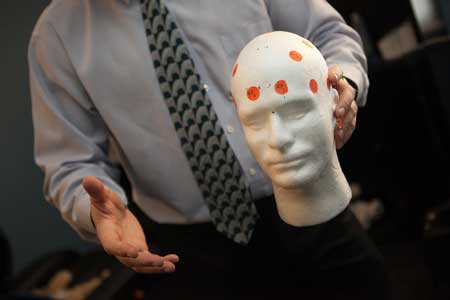 Bell Shelter introduces neurofeedback study as part of national movement.
By Vivian Gatica 
Removed from battle, veterans face the emotional scars of war. Many face post-traumatic stress disorder (PTSD).
The Salvation Army Bell Shelter in Bell, Calif., houses 350 homeless men and women, of whom 100 are veterans. This got the attention of Carol Kelson and Ben Miller, founders of Advance Neurofeedback, who wanted to conduct a neurofeedback study on veterans with PTSD.
According to Miller—who now volunteers at Bell Shelter as neurofeedback coordinator—the process measures the electricity within the brain via electrodes affixed to the head of the patient. The measurements are displayed through video and sound, showing the brain what it is doing and teaching it to self-regulate when it is not functioning properly.
"What we're essentially doing is measuring the electricity given off by the brain at different wavelengths, feeding it through an amplifier, which then feeds it into the computer, and then we show it to them through a video game or movie," Miller said. "The brain recognizes that it's seeing itself moment to moment."
The electrodes are intentionally placed at the sites that trigger PTSD symptoms for the individual, said Paul Wager, clinical director at Bell Shelter. When the brain recognizes those sites are not functioning correctly, it learns to correct itself, therefore reducing the symptoms.
Miller and Kelson first approached Wager with the idea for the study in April 2013. Ten veterans volunteered, and were split into a control group of five not receiving neurofeedback and a study group of five receiving it. After witnessing significant PTSD symptom reduction within the group of veterans receiving the treatment, all 10 participants started treatment.
"We saw the difference it was making on a lot of these guys' lives—from getting extra sleep, to having chronic pain go away and getting rid of ringing in the ears," Miller said. "It can be an intense situation living in this environment, so we're able to calm their anger so they're not going into mood swings."
Donald, one of the veteran participants, looked to neurofeedback after battling severe anxiety and the inability to sleep for more than one hour without waking up.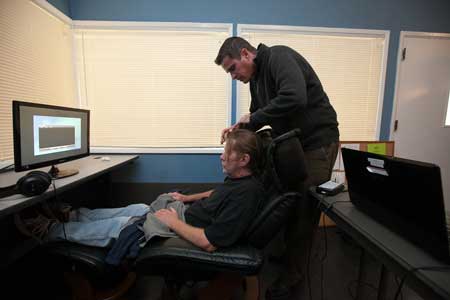 "I was stuck in my own mind, [and] I couldn't leave the shelter by myself," he said. "I wanted to be able to live, to be able to come out of the building and really live, so I decided to try this."
Donald is now sleeping between 4 to 5 hours each night. He has also reunited with family and is taking life skills courses.
Veterans receive three types of feedback during treatment: visual, auditory, and tactical.
Wager said that the visual is conducted through movies or video games so that the brain can see its own electrical activity on the screen.
"If a movie is used, the screen will shrink in size, become fuzzy or disappear when the brain isn't self-regulating itself optimally. In a video game, the spaceship or vehicle will slow down, speed up or stop completely… the client is not supposed to try to move the vehicle," Wager said. "It is all happening automatically as the brain figures out by itself that it is seeing feedback of its own activity. The brain then figures out how to self-regulate better."
The same goes for auditory, which is conducted through changes in sound through headphones, and tactical as each veteran receives a teddy bear that vibrates at different intensities and stops periodically.
"In just 20 sessions, which can occur over 10 weeks…we can see very significant symptom reduction," Wager said. "It's a very quick treatment for dealing with some of these issues that have plagued some of these [veterans] for 20 to 30 years."
Chase, another veteran receiving treatment, had experienced severe panic attacks for 28 years, often three to five times a day.
"When you have a lot of [panic attacks], they become part of your life and actually dominate [it]," he said.
After receiving treatment for a little more than two months, Chase now has an average of two panic attacks every couple of weeks.
"I don't have to live with as much fear as I always have; fear of having [a panic attack] when you don't know you're going to have one, and always contemplating how I might have a panic attack," Chase said. "It's miraculous; it really is."
According to Wager, neurofeedback is also effective at treating addiction, as it is often linked to PTSD itself.
"Folks with PTSD tend to be very anxious and have trouble sleeping because they are hypervigilant and tend to be depressed; these are all symptoms that lead to people wanting to self-medicate with drugs and alcohol," Wager said. "As they're more calm, they have less desire to want drugs and alcohol."
As the brain stabilizes through the treatment, Wager said that the veterans have less need for psychiatric medications as well.
Twenty veterans are now receiving treatment through the neurofeedback program at Bell Shelter. It is part of a nationwide movement organized by non-profit organization Homecoming for Veterans to offer free neurofeedback to veterans.
Wager hopes to be able to expand the program with Miller, and be able to treat all people at Bell Shelter who need it.
"We feel like it's good will," Miller said. "It's something that we need to do, and if we're in this industry, we're here to help people and help them have a better life."
Watch this video by Homecoming for Veterans on "Regaining Control: Neurofeedback & PTSD"