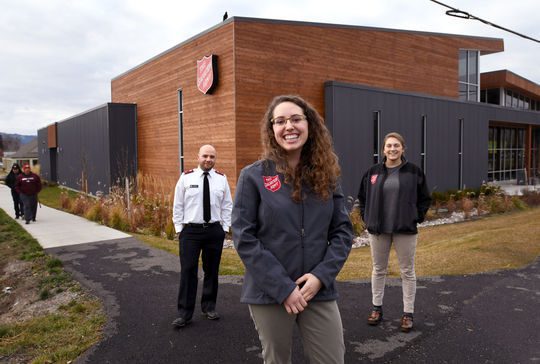 Addressing 'invisible' homelessness
New drop-in center gives teens on the streets safety without the stigma.

Officials in Missoula, Montana, began noticing a disturbing trend in its homeless population over the past few years: it was getting younger.
By the end of the 2015-2016 school year, Missoula County Public Schools had 460 homeless students, 177 of whom were high-school age. Of those 177, there were 102 "unaccompanied youth," lacking a parent or legal guardian.
According to the most recent data, school districts across Montana reported 3,075 homeless students to the Office of Public Instruction—the highest mark yet.
Services for homeless teens, however, were not keeping pace. Why? Service providers face a host of potential liabilities that come into play when dealing with unaccompanied youth. For that reason, nobody in the community had figured out a way to successfully reach this population.
Late last year, The Salvation Army answered that call with its new Teen Drop-In Center, spearheaded by Missoula Corps Officers Lts. Joshua and Loreen Hamilton
and funded this year by a T.L. Williams grant
. It's a space for teens ages 13-18 to come shower, do laundry, or eat—all free of the stigma of being homeless. They also have laptops available for kids to do homework or complete employment applications.
Staffers hope to make mental health providers, private therapists and employment resource organizations available in the coming months.
Legally, The Salvation Army can't offer much more than that, but having these services available for teens in the community is a welcome addition.
Meanwhile, the Hamiltons are working with State Senator Diane Sands to introduce a bill this year to help make it easier to work with the homeless teen population.
"Teens are more apt to stay hidden. It's kind of like an invisible form of homelessness. A lot of these teens don't want to somehow end up with Child and Family Services because it might shake up their situation even more," said Lisa Sirois, Youth Social Services Coordinator for The Salvation Army. "So we're really trying to come in and build that trust."
Sirois said in addition to being able to provide a safe space for teens, the drop-in center is
also "kind of doubling" as a way to research the population.
"We're working on developing different awareness projects," Sirois said. "We are discussing ways that we can let the community know it's an issue."
According to MCPS Families in Transition Liaison Trish Kirschten, many t
eens are afraid that if they are found they will get put in the foster care system.
"Many of them don't want to get their parents in trouble," Kirschten said. "They don't want to throw their families under the bus so they just keep quiet."
The
McKinney-Vento
definition for homelessness includes anyone who's sleeping in their cars, motels, emergency shelters or couch surfing, which makes it difficult to get a pulse on how big an issue this truly is, Kirschten said. For starters, giving them a safe place to go for four hours a night will go a long way, she said.
"Getting the kids to really be comfortable there is going to take time," she said. "But I think the Missoula community is absolutely blessed to have Joshua and Loreen Hamilton come in this community and spearhead this and get something moving forward. No one's been able to do it here and I think it's absolutely phenomenal what they're doing."
---
Most common reasons youth become homeless or run away:
Family problems

: Many youth run away, and in turn become homeless, due to problems in the home, including physical and sexual abuse, mental health disorders of a family member, substance abuse and addiction of a family member, and parental neglect.

Transitions from foster care and other public systems:

 Youth who have been involved in the foster care system are more likely to become homeless at an earlier age and remain homeless for a longer period of time. Youth aging out of the foster care system often have little or no income support and limited housing options and are at higher risk to end up on the streets. Youth that live in residential or institutional facilities often become homeless upon discharge. 

Economic problems: 

Some youth become homeless when their families fall into difficult financial situations resulting from lack of affordable housing, difficulty obtaining or maintaining a job, or lack of medical insurance or other benefits. These youth become homeless with their families, but later can find themselves separated from them and/or living on the streets alone, often due to shelter or child welfare policies.
SOURCE: National Alliance to End Homelessness