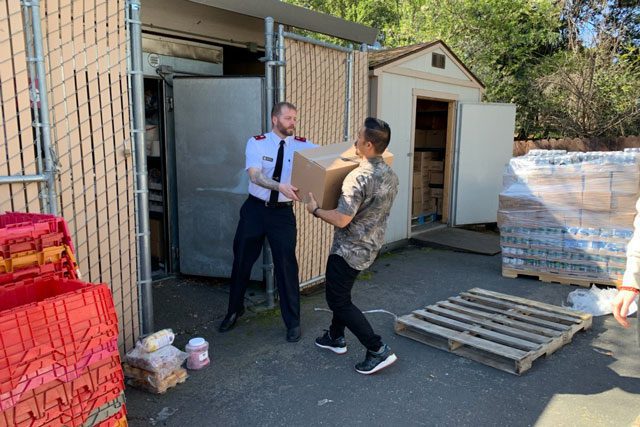 A week in the life of a Salvation Army emergency disaster services officer
By Jesse Posner, Lt. –
While every disaster is unique and creates its own special needs, the core of The Salvation Army's disaster program consists of several basic services from food assistance to emotional and spiritual care. Services are adapted to the specific needs of individuals and communities and scalable according to the magnitude of the disaster. Right now across the Western Territory, Salvation Army officers are on emergency disaster duty, responding to the COVID-19 crisis to meet the needs of their communities. 
Here Lt. Jesse Posner, Auburn (California) Corps Officer, shares a look inside his week of emergency disaster services.
April 1
Today we set up the Auburn drive-thru pantry. We are having clients drive up and sign in from their cars, then we bring the food out to them. This is a little harder to do from the usual way we distribute food, however it allows us to practice social distancing. I get to personally check in with each client, ensuring they are not only doing well with food and material needs, but spiritual needs as well. I was able to pray with three clients today.
I was also able to share hope and a message live on Facebook today, checking in with everyone, and giving them words of hope from the hope we have in us, Christ Jesus, through his Word.
April 2
Today I was able to deliver food to homebound clients, those who are unable or not safe to leave their homes for food. It was incredible to see the smile on their faces when they saw me. Their loneliness caused by being isolated melted away when we were able to have a brief hello. I hope I showed them they are loved and not forgotten; that there is still hope!
One mother was in tears today as she did not have money for diapers or wipes for her 3-year-old. We were blessed to have some in her daughter's size. We gave her two packages of diapers and wipes. She was so very thankful, and her spirits were raised.
April 3
Besides the food and lunches we have been providing daily, we focused today on youth activity bags. We created 50 of them and were able to pass them all out to families that had children wanting and needing something to do. What a joy it is to see the excitement return to a child's face in a time of uncertainty for them—being away from their friends and the schedule they were so used to at school. 
April 4
Today was a quiet day as we put the final touches on our Sunday livestream service for the community and our church family. It was fun to be able to record the children's Bible storytime today.
April 5
Today is Sunday. We got on the phone after our live streamed worship service and called everyone in our congregation to ensure they have all they need, and just to speak with them and pray with them. They were so happy to be able to speak with us and share what they have been up to. We ensured they all knew of the assistance we can provide during this pandemic and told them not to hesitate to reach out to us if they need anything—food, other items, prayer and so on. 
April 6
We were able to partner with other emergency organizations today in bringing hope to the community. The Southern Baptist Emergency Group helped us pass out food to the community. We also put together 50 "He has Risen" activity bags for the youth of this community. For those who do not have internet access, we distributed DVDs with our youth and Sunday services.  
April 7
Today we did home deliveries again, bringing food to those who have been isolated physically. We added Salvation Army publications to their bags, along with uplifting devotionals and messages they can keep busy with. I try to remind them that we are people of faith not fear! We have a God that is personal and loves us, and will walk through it all with us. We know this from his example of going to the cross, and this is why we can live in hope and have faith—we have already won in Christ Jesus. Because of this, no matter what happens, we know that we are going to be alright.






HOW TO HELP:
If you'd like to make a monetary donation, please

click here to make a gift.

Text 'GIVE' to 52000 to make a $10 donation to The Salvation Army. This will automatically add a one-time donation to your next mobile phone bill.

For information about volunteering, please visit

volunteer.usawest.org

.

To learn more about how to support The Salvation Army's relief efforts,

please click here

.