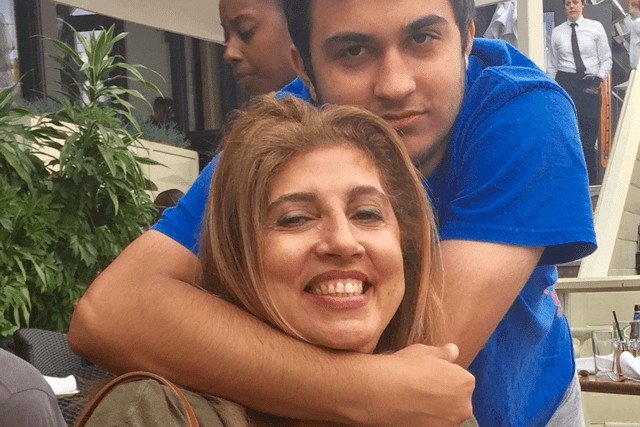 A single mother's saving grace
Sheenah Tehrani wanted to go back to work to enable a better life for her son.  
By Kristin Marguerite Doidge –
It's often said that "it takes a village to raise a child," but what about the flip side: what does it take to lift a single mother up and into a better life?
For Sheena Tehrani, all it took was quality, affordable child care, and someone to believe she could become something better in a challenging time.
"It was very scary," she recalled. "As a single mom, the pressure was entirely on me to raise my son. I had to really pull it off."
After marrying young, Tehrani experienced a difficult pregnancy and ultimately ended up separated from her husband. She gave birth to a healthy baby boy, but worried about finding a way to return to work and care for him at the same time.
A friend told Tehrani—who had previously worked as a jewelry dealer—about The Salvation Army's offerings for children at its Southern California child care centers, and "even though I wasn't in a good place, I had the spirit" to follow up, she said..
"I wanted to go back to work making jewelry," Tehrani said. "It requires a lot of attention, which is difficult when you have a child."
Her son, Justin, was 22 months old at the time. The Salvation Army Bessie and David Pregerson Child Development Center in West Los Angeles was just around the corner, but didn't offer classes for children in diapers or under the age of 2 at the time.
Still, the center's administrators saw something in Tehrani, she said, and wanted to help. The team at Bessie Pregerson opened up a class exclusively for her and for other members of the community who needed it. "And after just a few days, [my son] would run to the classroom," she said.
Justin and his "20 new friends," as Tehrani puts it, each received a good breakfast, a healthy lunch, and quality care from experienced staff. The flexible schedule allowed Tehrani to branch out and start selling her fine jewelry items at the farmer's market—sometimes taking Justin with her—and other times simply allowing her to focus on building her business knowing he was in good hands.
"I was so excited to have found it," she said. "It was like leaving my child with my grandma or aunt."
The Salvation Army's child care offerings provided Tehrani with more than just an opportunity to build a better life for her son; it also broadened her network of friends who became like family, creating a ripple effect for the community at large.
She still keeps in touch with many of the fellow single mothers she met through the center's preschool programs more than 15 years ago. For a while, one of them came to live with her rent-free when she, too, needed a helping hand.
"They're like sisters," she said. And the feelings are reciprocated by the staff at Bessie Pregerson, even as years go by and jobs change.
"I have had the pleasure of keeping in touch with numerous parents whose children have attended," said Marcella McKnight, Divisional Director of Child Development Units for The Salvation Army in Southern California, and the former director at the Bessie Pregerson center. "It was a very community kind of relationship, and it flourished. We can really see the hand that was extended, and how it made the families much richer."
McKnight said families such as Tehrani's comprise about 85 percent of those who attend the Pregerson facility, in which their tuition is free of charge and offset by grants from the Department of Education. The facility serves about 60 children each year ages 18 months to five years, and focuses on successful preparation for kindergarten and ongoing achievement in later school years. The child care staff of 10 provides a curriculum designed to meet the needs of each child while enhancing self-esteem, life skills and the ability to recapture the joys of play.
Tehrani said her son Justin is thriving today as a result.
"He just graduated from high school," she said, proudly. "And he's a caring, tolerant person. He loves all people."
He's even likely to follow in his mother's entrepreneurial footsteps, having watched her business grow into a thriving online enterprise.
"To look back, I realize I did it," Tehrani said. "I became one of their success stories."
And it's not lost on her where she could be, had it not been for that helping hand from The Salvation Army that set her on the path toward a better life for her family when she needed it the most.
"If we support each other more, a lot of situations wouldn't be that bad," she said. "I'm amazed I've come this far."