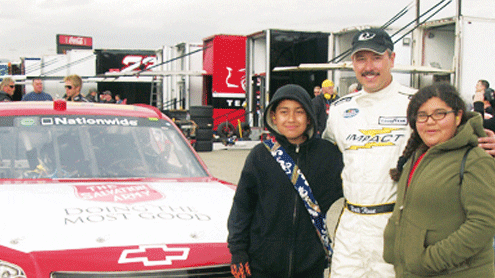 A day in the pit
Junior soldiers enjoy a day at the NASCAR races.
By Buffy Lincoln
The full NASCAR experience is exactly what Martiza Moran and Emmanuel Matos experienced at the Nationwide Series NASCAR event March 26 at the Auto Club Speedway in Fontana, Calif. They were guests of #89 Salvation Army car driver Morgan Shepherd, who owns two Salvation Army emblazoned racecars.
At the time, Moran and Matos were junior soldiers at the Ontario (Calif.) Corps, led by Envoys Abelardo and Naomi Tamez. The Tamezes accompanied the kids to the track.
Because Matos and Moran were the oldest junior soldiers, they were shoe-ins for the tickets, and just in time. They were both enrolled as senior soldiers the day after the race.
A highlight of the day was when Shepherd's wife, Cindy, took the kids into the "pit." She sat them on a toolbox—an official toolbox of an official crewmember—where they watched up close and personal and felt the excitement of the pit crew changing tires.
"I got invited by the driver to sit in his pit and watch the cars get gassed up and get their tires changed. The first thing I heard was a prayer to God and the National Anthem being played. Then I saw the Blue Angels fly over us. I got so excited when I heard, 'Start your engines' and watched the drivers get in their cars and the race beginning. It was something I'll never forget," Matos said.
Shepherd finished 23rd in the race. Brett Rowe—Shepherd's personal friend and another driver—placed 42nd in Shepherd's #55 Salvation Army entry.
Shepherd co-founded Victory in Jesus Racing in 2001 and Faith Motorsports in 2006 with two goals: provide and adequately equip outreach teams and share the gospel of Jesus Christ to the NASCAR community, one race at a time.