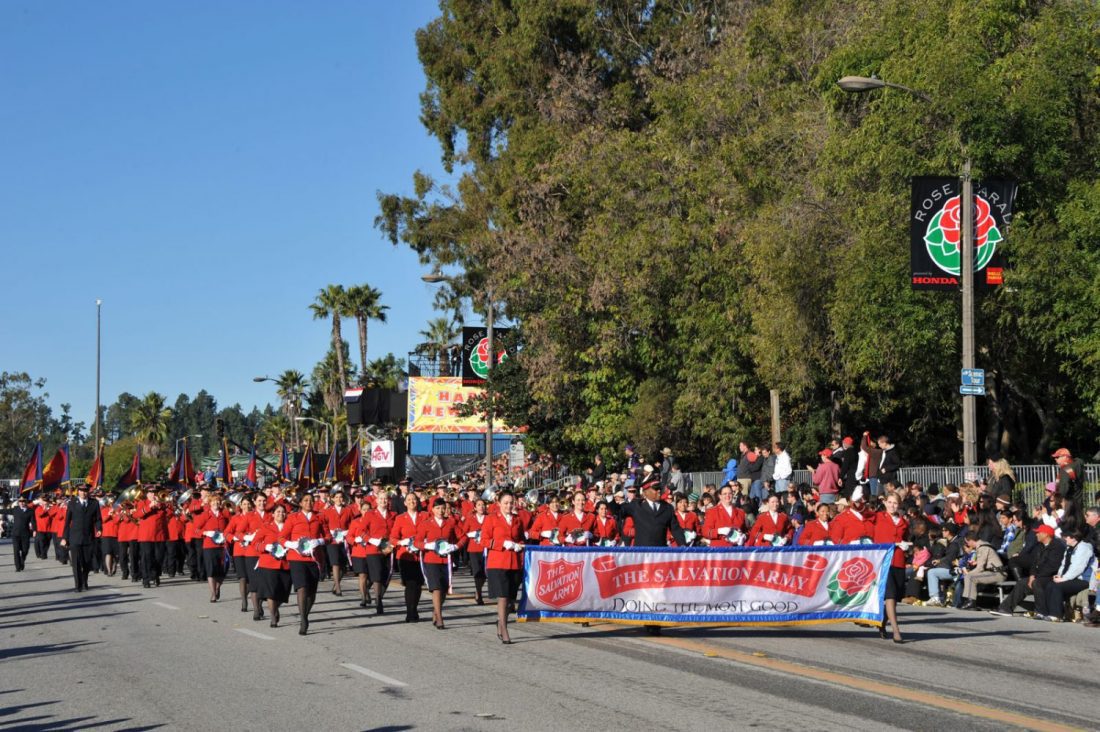 91 years strong, and still marching
The Army's Tournament of Roses Band continues its New Year's tradition.
In 1920, Woodrow Wilson was president, the 19th Amendment of the U.S. Constitution was ratified giving women the right to vote, federal spending hit $6.36 billion, the cost of sending a first-class letter across the country was two cents, and The Salvation Army Marching Band made its first appearance in the Pasadena Tournament of Roses Parade.
Much has changed in the last century, but The Salvation Army is still marching in the annual New Year's parade—this year for the 91st time—still performing live for nearly a million people lining the sidewalks of Colorado Boulevard and close to a billion more watching on television from just about every corner of the world.
This year, the band played a new tune—a march, titled "Stand up, Stand up," composed by Paul Drury from Edinburgh, Scotland. Drury won an international talent search sponsored by The Salvation Army's Southern California divisional music department, which drew entries from 15 countries, including the Philippines and some African nations.
Drury, who traveled with his family as guests of the Southern California Division to hear his march performed, commented that he enjoyed fellowship with the guest band, the U.K. Territory's Southern Divisional Youth Band, led by Bandmaster Stephen Cobb, who also leads the International Staff Band. "These 50 young Salvationists are a credit to the Army, with a keen sense of purpose, musicianship and deportment, married with a desire to show kingdom values in the work that they do," said Drury.
The guests resided at Camp Mt. Crags during their stay.
A highlight for Drury was seeing the band perform at Bandfest, a celebration of youth music making. "Particular note must be made of the Pasadena Tabernacle Youth Chorus and Tabernacle Children's Choir," he said. "Both groups are simply brilliant."
Leading the Army's Tournament of Roses Band—for the 10th year—was Bandmaster Kevin Larsson, Southern California divisional music director.
In addition to the U.K. guest band, 45 individuals traveled from around North America to participate; unfortunately, eight couldn't make it due to blizzards in the East.
This year the marchers included people from age 14 to over 70. Southern California Divisional Commander Lt. Colonel Victor Leslie marched, as did three generations of the Saunders family, and Rick Sparks from the Tustin Ranch Corps marched his 39th parade this year—all sharing the common bond of keeping The Salvation Army's 91-year streak alive and sharing the love of God through music.
Robert Brennan and Jacqui Larsson contributed to this article.