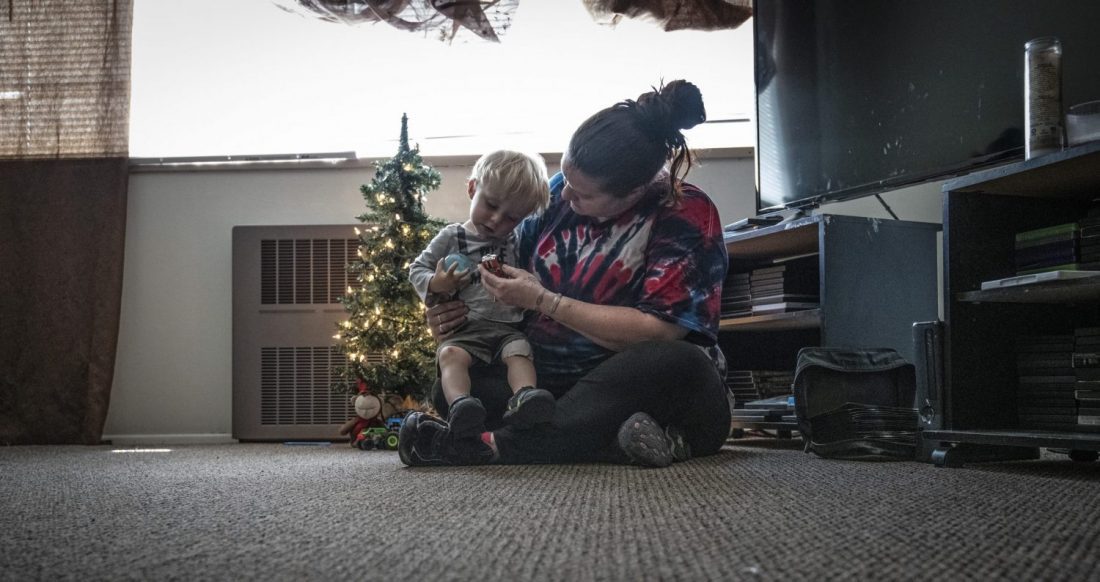 7 takeaways from talking to The Salvation Army's national leaders this Christmas
When you give to a Salvation Army red kettle, that money helps to meet needs in your community in a number of ways. The practice started in 1891 when Captain Joseph McFee needed funds to feed the hungry in San Francisco. He stood by a crab pot asking passerby to help make the meal possible. Now, The Salvation Army helps 23 million Americans in need each year in communities throughout the U.S. with the help of donations made at the kettle.
Now for the first time in 130-years, The Salvation Army started its annual holiday fundraising campaign early in order to rescue Christmas. Internal projections indicate up to a 50 percent decrease in funds raised through the iconic red kettles due to economic impacts from COVID-19, such as closed retail stores, less retail foot traffic, and people carrying less cash and coins. At the same time, the Army expects to serve up to 155 percent more people this year with Christmas assistance.
We sat down with Commissioners Kenneth G. and Jolene K. Hodder to learn more about the initiative. Salvation Army officers for more than 30 years, Kenneth G. Hodder is also a graduate of Harvard Law School and Jolene K. Hodder holds a master's of religion. The pair now lead The Salvation Army in the U.S. as National Commander and National President of Women's Ministries, respectively. 
Here's seven takeaways from my time with the Hodders:
1. This year, The Salvation Army encountered massive needs.
"It would be no exaggeration to say that since the beginning of the pandemic, The Salvation Army has encountered a tsunami of human need," said Kenneth Hodder. "And we did not hunker down. We adapted."
Since March, The Salvation Army has provided more than 100 million meals, 1.5 million nights of safe shelter, and emotional and spiritual support to over 800,000 people in need.
"Last year, we averaged about a million meals a week, so we more than doubled in about a six-month period," Hodder said. "That's astounding."
That level of response and need continues. A recent study by Columbia University showed that nearly 8 million Americans have fallen into poverty since May. Researchers from the University of Chicago and Notre Dame found children are among those who have it the worst. 
"These numbers are very concerning," Bruce D. Meyer, an economist at the University of Chicago and an author of the study, told The New York Times. "They tell us people are having a lot more trouble paying their bills, paying their rent, putting food on the table." 
2. We started saying Merry Christmas early.
While roughly 2.6 million people come to The Salvation Army for help at Christmas in a typical year, the Army knows the need is greater this year.  
As Jolene K. Hodder said, "My mother's heart breaks to think that there might be somebody out there who wouldn't have a Christmas in the midst of everything else that is happening."
The Hodders noted the Army is expecting a 155 percent  increase in need this year.
"That will put us at about 6.5 million individuals seeking help from the Army this Christmas," Kenneth G. Hodder said, acknowledging, for the largest nonprofit provider of social services in the country, the strain that increase puts on an already burdened system. And at the same time, The Salvation Army faces a significant challenge heading into its annual Red Kettle Campaign.
"People who have been donors in the past are now coming to us for help," Hodder said. "So you take the challenge of raising money with the increase in need, and that is what Rescue Christmas is all about."
In September, we started saying to people, 'Allow me to be the first to wish you an early Merry Christmas,' and the delight and joy spread across their faces," Hodder said. "It's all hands-on deck because The Salvation Army does not want any family to have to choose between paying their utilities and providing a Christmas gift for their child."
Partners across the country are joining the effort, from those on Capitol Hill, to celebrities and corporations, like Walmart, which is hosting red kettles and Angel Trees at participating stores and this year is offering customers the option to round up to the nearest dollar and donate the difference to The Salvation Army.
"I spoke with Doug McMillon, the CEO," Hodder said. "And I said, 'Doug, I just want to thank you.' He said, 'Well, my question to you is what more can we do?'   
"That speaks well for those who are leading in industries right now, that themselves are under pressure—they care," Hodder said. "The other thing it speaks to is the trust that they have for The Salvation Army. The extraordinary words of encouragement and support, the personal stories. They're humbling, they're very gratifying, and they give us great hope."
3. Our mission is expressed with determination.
Wherever they go, the Hodders said those they meet more often than not have a Salvation Army story to tell.
"Almost every group that we have sat with, you talk to them long enough and it comes out," Jolene K. Hodder said. "And we're learning as we go along. The Salvation Army doesn't have it all figured out, either. We were with somebody the other day and they said, 'We need to learn to be learn-it-alls, not know-it-alls.' I loved that."
They noted The Salvation Army's mission: "to preach the Gospel of Jesus Christ and to meet human needs in His name without discrimination."
"That is not so much a statement of accomplished fact as it is an expression of our determination to do better and better in achieving it," Kenneth G. Hodder said. "And that opens up all kinds of possibilities in terms of our sensitivity to racial and ethnic issues, in terms of our sensitivity to the LGBTQ community, to other marginalized populations. The Salvation Army is a learning organization. It always has been, and it is at its best when it is constantly trying to be more and more like Jesus."
With a willingness to learn, Hodder said The Salvation Army can be that much-needed neutral ground.
"The country needs a place where they feel that everyone can be accepted and loved and appreciated, where there are no political overtones or ramifications," he said. "And what we are seeing is that The Salvation Army can serve that purpose. So not only are we at the table, but I believe more and more, we are hosting the discussions at our table."
4. We won't get back to what we consider normal.
"I don't think we'll ever get back to what we consider normal," said Jolene K. Hodder. "I think the Lord has bigger and better plans for the Army. As long as we allow him to lead us and to stay open to the possibilities, to see challenges but also to see the opportunities through the Lord's eyes."
The year has forced accelerated change for all of us, they acknowledged.
"The methodology is going to evolve and it's going to evolve rapidly, yet the fundamental needs that The Salvation Army addresses, I don't see changing dramatically. We're still talking in physical terms about fundamentals. And in spiritual terms, we're talking about fundamentals," Kenneth G. Hodder said. "The Salvation Army will do anything that a community needs in the name of Christ."
"We have new methods in meeting old needs," Jolene K. Hodder said. 
"I think our greatest need is to remember, you're not doing this on your own," Kenneth G. Hodder said. "This is a tremendous opportunity for us to renew our personal and corporate relationship with the Lord. His strength is going to carry us through this. That's what's always been the key to the Army's ministry. And now more than ever, we need to be mindful of that."
5. We don't know what's to come. 
"The long-term economic ramifications of the pandemic have yet to be seen," Kenneth G. Hodder said. "These are early days, but one thing we're seeing is a greater need for housing. 
"I think it would be fair to say that we've seen a resurgence in the notion of transitional housing, because there are so many people who are transitioning or who are at risk of losing their homes," he said. "I think we're going to see greater collaborations. I think we're going to see more extensive public, private initiatives."  
6. We've learned we still have a lot to learn—and we are not in control.
"What has this epic year taught me? That after 32 years of service, I still have a lot to learn," Kenneth G. Hodder said.
Jolene K. Hodder added, "For me, it's just a reminder that I am not in control of anything, Christ is."
"So, you learn that everything that you think constitutes the foundation for your life is an illusion," Kenneth G. Hodder said. "That the only true foundation, the only thing that truly lasts is Christ. I believe that these circumstances have helped me to grow spiritually over the course of this year in ways that I didn't anticipate."
To those who have had a hard year, especially, he offered comfort: "You're not alone. You're loved. You're cared for."
To Salvationists and friends engaged in the effort to rescue Christmas, he challenged: "Stay safe. Do the mission. Get out of the building."
7. We need everybody this year.
Hodder noted The Salvation Army's effort to "rescue Christmas" seeks to create awareness about the unprecedented need Americans living in poverty are facing this year. And, to ask people to come alongside The Salvation Army to help.  
"There's a lot to do," he said. "We need everybody this year." 
See how you can help The Salvation Army Rescue Christmas this year. 
---
Do Good: