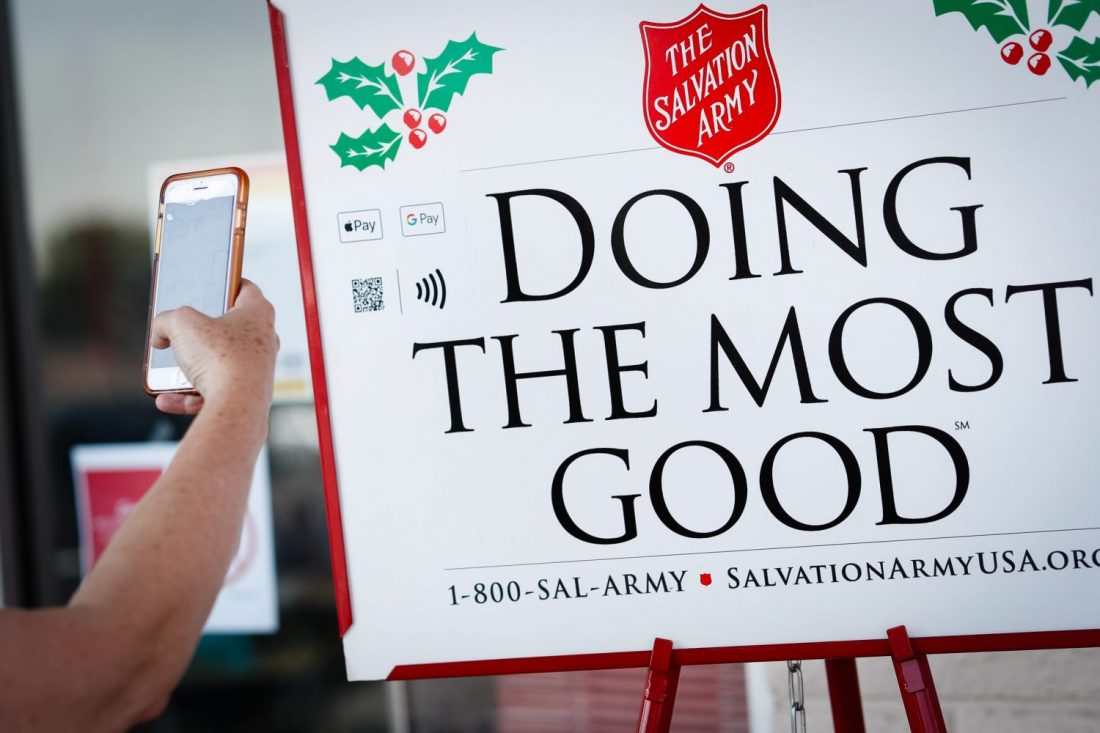 How you can help The Salvation Army rescue Christmas this year
In 1891, Salvation Army Captain Joseph McFee helped establish one of The Salvation Army's best-known traditions: the red kettle. McFee found himself troubled by the number of people who were going hungry in San Francisco. With the holidays approaching, McFee had the idea to provide free meals for those in need. To collect money, he recalled a practice from his time as a sailor in Liverpool, England, where a pot located at the port collected money from passersby.
After his revelation, McFee placed a similar pot at the nearby Oakland Ferry Landing, and thus, a tradition was born. The first pot was able to raise enough money to provide food for 1,000 families. His idea spread from coast to coast, and in 1897, 150,000 dinners were provided throughout the country. McFee's idea has transformed into a practiced tradition around the world: The Salvation Army Red Kettle Campaign.
Disasters, job loss, and the sheer need stemming from the coronavirus has made the Red Kettle Campaign more important than ever in 2020. Unfortunately, there will be barriers that have not been experienced in recent history. Because of combined effects from COVID-19, like high unemployment rates, increased online shopping creating less foot traffic, people carrying less cash and change and the closures of brick and mortar stores, it is estimated that donations could be reduced by as much as 50 percent compared to last year but will need to provide relief for up to 155 percent more people.
The Salvation Army is doing its best to adapt to the pandemic changes, launching the Rescue Christmas campaign to start kettles earlier and expand assistance efforts, but it needs your help. Here are some ways you can help rescue Christmas for Americans in need and keep the spirit of giving alive during these uncertain times:
1. Set up a recurring monthly gift
The best way to ensure the vital services The Salvation Army provides in your community continue is to enlist in Love's Army with a monthly gift of $25. These gifts will ensure those in need can receive the goods and assistance to help them through these challenging times. 
2. Donate to a virtual kettle 
Due to COVID-19, it might be harder to make in-person donations at red kettles like it had been in the past. In keeping with the year's trend of moving everything online, The Salvation Army has adapted to using virtual red kettles. Through The Salvation Army's virtual red kettles, you can select a specific amount you would like to give as a one time donation. The funds will be used in the area of donation. 
3. Donate via Apple Pay and Google Pay 
For in-person red kettles locations, each kettle stand has been equipped with Apple Pay and Google Pay that will enable donations to be made without physical contact. The kettles also have a QR code that allows someone to scan the code and be led to a digital donation page for cashless giving. 
4. Give through Amazon Alexa
Want to give, but you're far from a kettle? Ask Alexa. In order to make a donation this way, simply ask Amazon Alexa to donate by saying, "Alexa, donate to The Salvation Army," then specify the amount.
5. Text to give 
Similar to giving through Amazon Alexa, make a donation anywhere by texting "KETTLES" to 91999 and then specifying the amount you would like to give.
6. Gift Donations
This method is not unique to COVID-19 times, but it is more important than ever. Donate specific items by giving  bulk gift donations that can be brought to various drop off locations. Find and contact your local Salvation Army corps if you would like to donate items in bulk. 
7. Fulfill a child's wish list through Angel Tree donations  
Through The Salvation Army's Angel Tree program, you can make donations to a child's Christmas list through Walmart. Once a child is accepted as an Angel, donors like you can shop to buy the things they wished for. Simply pick a tag off the Angel Tree located inside your local Walmart store or shop online using Walmart's Registry for Good. Once the gifts are received, The Salvation Army will distribute them to families in need for Christmas morning.
---
Do Good:
Learn more about how you can help The Salvation Army make Christmas possible for those in need at RescueChristmas.org.
Find volunteer opportunities near you by visiting volunteer.usawest.org.
Did you know The Salvation Army served more than 23 million Americans last year fighting hunger, homelessness, substance abuse and more—all in a fight for good? Where can you help? Take our quiz to find your cause and learn how you can join in today.