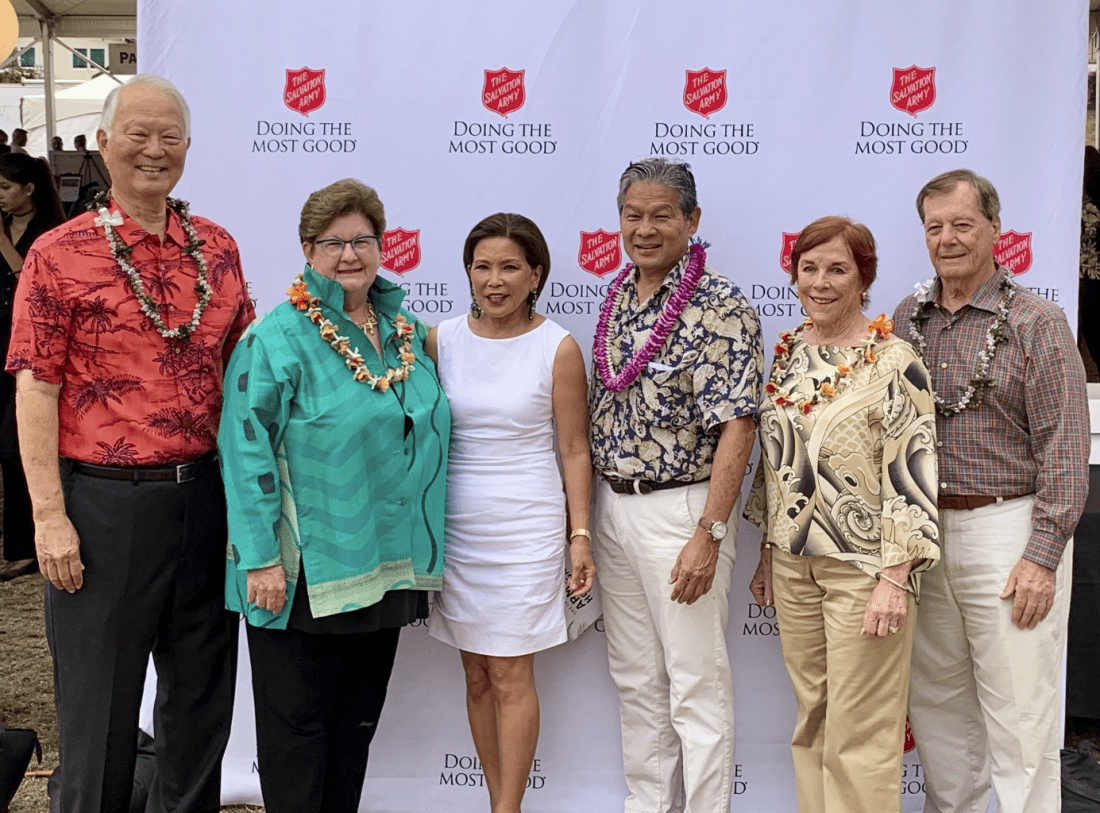 2019 Army of Hope Gala raises more than $357,000 for Pathway of Hope initiative
The Salvation Army honored the Kahauiki Village Development Team and Central Union Church at the April 27 event.
The Salvation Army Hawaiian and Pacific Islands Division raised more than $357,000 at the 2019 Army of Hope Gala to support its Pathway of Hope initiative for Hawaii's homeless. The event took place April 27 at The Salvation Army Family Treatment Services facility in Honolulu and honored Salvation Army partners who have made a positive impact in Hawaii's island communities. Honorees for 2019 included the Kahauiki Village Development Team and Central Union Church.
"We were pleased to honor these leadership teams who have embraced the spirit of the award by partnering with us and giving back to our island communities in significant and impactful ways," said Divisional Commander Major Jeff Martin. "We're also grateful to our event sponsors and local chefs and restaurants in helping us make this an unforgettable event for our guests, all while raising funds to help Hawaii's homeless."
Guests enjoyed mocktails and signature menu selections created by some of Oahu's top chefs and mixologists, as well as live music. Featured restaurants included Azure, Chef Chai, 53 By The Sea, Halekulani, Il Gelato, PAI Honolulu, Roy's Waikiki, Senia, 3660 On The Rise and A Cake Life. The gala also included silent and live auctions and the opportunity to support Salvation Army programs with special Angel Tree tag requests.
Funds raised during the event will support The Salvation Army Pathway of Hope initiative, which provides a foundation of housing and jobs, along with a new community to break the cycle of intergenerational poverty, homelessness and drug addiction. Additional funds raised during a portion of the live auction will help send keiki (children) to summer camp at The Salvation Army's Camp Homelani on the North Shore of Oahu.
2019 Army of Hope Award Recipients
Kahauiki Village Development Team
Kahauiki Village is the brainchild of local businessman, Duane Kurisu. He wanted to build something more than just shelter; he wanted to build a community much like he experienced growing up in a plantation camp on the Hamakua coast on Hawaii Island. A community, he reasoned, would provide families much more than just a roof over their heads. It would provide then with a sense of belonging to a larger family and encourage them to help each other out of difficulties.
Kurisu inspired others to follow: Lloyd Sueda, well-known, local architect; Gordan Furutani, former head of the State Land Use Commission and the federal Housing and Urban Development's Honolulu office; John Dean, director and former chairman and CEO of Central Pacific Bank; Scott Kuioka, chief investment officer at Island Insurance; Mel Kaneshige, former Outrigger Hotels executive; Russell Yamamoto, president of RMY Construction; Randy Hiraki, president of Commercial Plumbing; Dexter Kubota, principal of Bowers + Kubota Consulting; Joel Yuen, president of InSynergy Engineering; and others.
In particular, The Salvation Army award honors The Kahauiki Village Development Team's work in implementing long-term strategies for breaking cycles of poverty and initiating community partnerships that work towards creating solutions for homelessness that sparked a new movement in addressing the homeless crisis. Their work fulfilled an urgent need for affordable housing for local families and created life-changing opportunities for those in the community, including clients graduating from The Salvation Army's drug and alcohol rehabilitation programs.
Central Union Church
The Salvation Army also honored Central Union Church, a community of faith that has been ministering in Hawaii for over a century and was critical in helping The Salvation Army establish itself in Hawaii 125 years ago. In 1893, Central Union Church reached out to The Salvation Army in San Francisco and invited them to Hawaii. Just over a year later, the first group of Salvation Army workers arrived at the port of Honolulu to a crowd of Central Union Church members eager to welcome them.
A few days later, on September 14, 1894, The Salvation Army had its first gathering in Honolulu. With the support of Central Union and other churches, the news of the Army's arrival and work in Hawaii spread quickly, with help being rendered even in the most distant plantation communities where sickness and poverty were prevalent. With no space to call its own, The Salvation Army accepted significant support from Central Union, even utilizing Central Union's worship hall for all its meetings. The partnership between Central Union and The Salvation Army was permanently established.
"Central Union Church is instrumental to The Salvation Army coming to Hawaii," said Major Jeff  Martin. "They not only invited us here, but also paid the way to get us here."
It is those early connections and relationships that have made possible everything The Salvation Army now does in Hawaii, from the drug and alcohol addiction programs to basic needs assistance to youth outreach and ministry services.
Event sponsors were:
Pikake level – A-1 A-Lectrician, Inc; Bowers+Kubota; Central Pacific Bank; City Mill; Coastal Construction Co. Inc.; Commercial Plumbing; John and Sue Dean; Mel Kaneshige and Nancy Pace; RMY Construction; Russ and Martha Robertson; Swinerton Builders; UHA Health Insurance.
Ginger level – American Carpet One; Associa Hawaii; CW Associates; Carlsmith Ball LLP Attorneys at Law; First Hawaiian Bank; G70; GMR LLC; Geolabs, Inc.; Hawaii Business Magazine; Island Insurance Companies; James Campbell Company LLC; Kaiser Permanente; MW Group; Newmark Grubb CBI; Ohana Health Plan; Par Hawaii; Territorial Savings; TrueSense Marketing; and Tsuha Foundation.
In-kind donations were provided by Central Pacific Bank, Choco Le'a, Hawaiian Chip Company, La Tour Café and McDonald's Hawaii.
To help support Pathway of Hope, Family Services Office, and other Salvation Army programs in the islands, contact The Salvation Army – Hawaiian and Pacific Islands Division at 808-988-2136 or visit hawaii.salvationarmy.org.