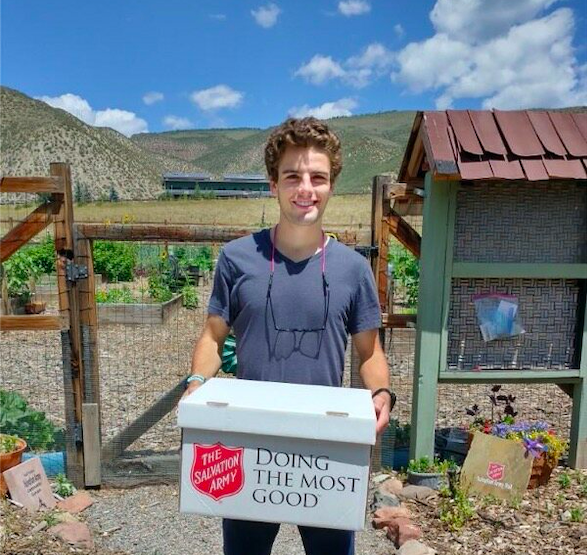 100-mile birthday run benefits Salvation Army in Vail Valley
By Caramie Petrowsky–
Instead of spending his 21st birthday sad he couldn't celebrate with friends due to COVID-19, Eagle County, Colorado, resident Franklin Reilly decided to run 100 miles to raise money for the Vail Valley Salvation Army and two other local charities dedicated to ensuring people don't go hungry. His mother, Beth, helped him come up with the idea and pick the beneficiaries.
"The main goal was food because obviously so many people were laid off a few months ago," said Reilly, whose track season at Williams College in Massachusetts was cut short due to COVID. "Specifically in this community, we have a population that doesn't have a ton of financial security. There were a lot of people running out of food locally and I thought food was probably the most significant impact I could make. I wanted to donate to something really tangible."
And so Reilly started a GoFundMe page titled "One Step at a Time" and began training in earnest for the upcoming run.
Before dawn on his birthday, April 19, Reilly set out at 4 a.m. for his run. The local community rallied around him in this endeavor. Fellow runners ran alongside to pace him, encouraging him and handing him sandwiches; strangers left chalk drawings along his route; and friends drove by blaring upbeat music—one musician even played a horn from his car—to keep his spirits up. He said he needed the encouragement, especially for the last 10 miles of the race, which ranks as one of the hardest things he's ever done. Reilly finished the race at 1:50 a.m., thanking everyone who cheered him on and donated.
On the GoFundMe page, Reilly compares how he thought about the race to how we should think about the country's current battle with the virus.
"It is nearly impossible to run 100 miles if you only think about the finish and how much farther you have to get there," Reilly wrote. "The only way to conquer it is through many, many small goals and by focusing just on the little bit ahead of you. We can do the same with COVID-19!"
On the page, Reilly also encouraged direct donations to the Vail Valley Salvation Army: "Any amount makes a difference! The best way to tackle big, daunting problems is one step at a time."
In all, Reilly raised more than $11,000 and in early August, he dropped off a check to the Vail Valley Salvation Army for $3,595.
The money, which will be used to buy food for the food pantry, comes at a time when The Salvation Army could really use the help.
"In March, April, May and part of June, we had at least triple the amount of people coming in for help with food," said Tsu Wolin-Brown, the longtime director of the Vail Valley Salvation Army.
By the end of June, they'd given out 2,470 food boxes with a total value of more than $77,000.
"The need has dropped off a bit lately but if people get laid off again, we'll need a lot more again," she said. "The money Franklin gave us, along with other donations from the community, has helped us keep up with the increased demand."
The Salvation Army is also struggling because they've had to cancel three large fundraising events they usually host during the spring and summer, including Empty Bowls, a harvest dinner and a golf tournament, which brings in a significant portion of their budget.
In the end, Reilly was surprised at how much money the GoFundMe appeal brought in, though he's quick to make a point.
"I didn't raise the money—it was the whole community that did it; I just collected it," he said. "It was a lot of small donations [180 in total] that really added up."
This project has prompted Reilly to learn more about The Salvation Army, what they're doing locally and how he can help in the future, he said. When he dropped off the check, he was excited to see the food pantry in person.
"Everyone is in their own bubble; I was unaware of all the work they were doing until I had a way to reach out and help," Reilly said. "I've always been told to think globally and act locally. It was really cool to see them helping the local community that's in need."