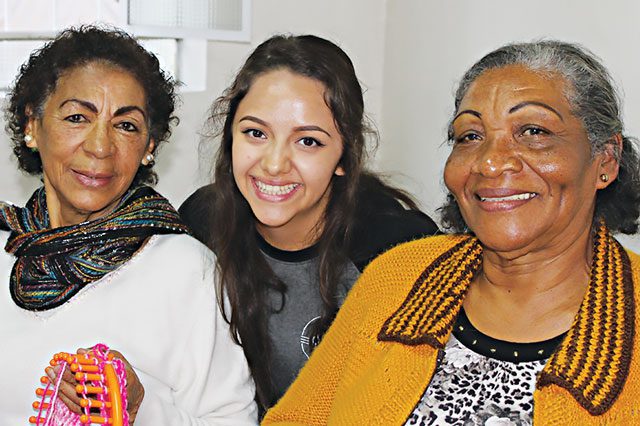 Young adults serve for the summer
Western Territory Service Corps teams minister throughout the world.
This summer, the Western Territory sent Service Corps teams to the Philippines, Denmark, the USA Southern Territory, Peru and Singapore/Malaysia. An additional, short-term team spent 10 days in Merida, Mexico.
One prayer request that all the teams shared was to be able to connect with the kids they encountered, despite language barriers and cultural differences.
The Denmark team visited Greenland, ministering to people in Nuuk, the capital city; later they participated in a territorial camp. Team Philippines ministered in the Visayas Division before moving on to Manila. Serving in primarily Muslim locations with little Christian presence, Team Singapore/Malaysia encouraged the local Salvation Army corps members and leaders. Team Peru served at the La Esperanza Corps in Trujillo. The USA South team ministered in various locations, including Atlanta, Georgia and Memphis, Tennessee. The Mexico team's week of teaching culminated in a performance at one of the local corps in Merida.
A team from the USA Eastern Territory came to the West this year, serving in the Golden State Division at Camp Redwood Glen, the San Francisco Mission Corps, the San Francisco Kroc Center, and in Gonzales. In the Alaska Division, the team served at the Anchorage Korean Corps, King's Lake Camp, the Kodiak Corps and the Mat-Su Valley Corps.
The Salvation Army Service Corps gives young people ages 18–28 the opportunity to build relationships through intentional service and evangelism in communities where The Salvation Army has a presence.
See more at servicecorpswest.com.
Service Corps 2017
Team Philippines
Team Leader: Cassy Swain (Santa Cruz Corps, Golden State Division)

Caleb King (Fountain Valley Corps, Intermountain Division)

Jarod Howard (San Diego Citadel, Sierra del Mar Division)

Bethany Sheppard (Tacoma Corps, Northwest Division)

Edgar Castaneda (Chico Corps, Del Oro Division)
Team Denmark
Team Leader: Shante Wong (El Cajon Corps, Sierra del Mar Division)

Gabriela Wood (Ogden Corps, Intermountain Division)

Hannah Bridgeo (Caldwell Corps, Cascade Division)
Team USA Southern Territory (Georgia/Memphis/ALM Division)
Team Leader: Lorine Desardouin (Las Vegas Citadel, Southwest Division)

Maya Rodriguez (El Cajon Corps, Sierra del Mar Division)

Allison Kauffman (Sacramento Citadel, Del Oro Division)

Esmeralda Torres (Cathedral City Corps, Sierra del Mar Division)
Team Peru
Team Leader: Jennifer Breazeale (Modesto Citadel, Golden State Division)

Yazil Rodriguez (Santa Fe Corps, Southwest Division)

Katie Mena (Burbank Corps, Southern California Division)

Lillian Contreras (San Jose Temple, Golden State Division)
Team Singapore/Malaysia
Team Leader: Lindsey Chamness (Kauluwela Corps, Hawaiian and Pacific Islands Division)

Betsy Miller (Eastside Corps, Northwest Division)

Anna Marino (San Diego Citadel, Sierra del Mar Division)

Katie Gilden (Kauluwela Corps, Hawaiian and Pacific Islands Division)
Team Mexico
Team Leader: Florenz Jayerica Tumale (San Jose Temple, Golden State Division)

Jessica Gazmen (Kahului Corps, Hawaiian and Pacific Islands Division)

Crystal Berard (Reno Corps, Del Oro Division)

Berenice Gonzales (Long Beach Citadel, Southern California Division)