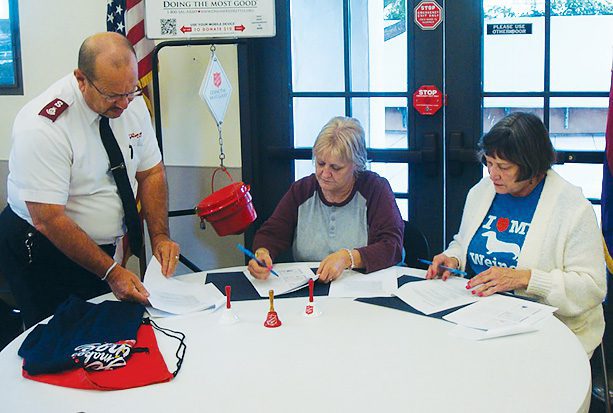 Opportunity rings
Santa Barbara Corps implements new program to prepare Hospitality House residents for the workforce
By Chadwick Phillips – 
The Salvation Army's Red Kettles are an iconic symbol during the holidays as seasonal workers and volunteers ask generous donors to spare change and make a difference with the ring of a bell from Nov. 28 to Christmas Eve. One hour of bell ringing can raise enough money to provide a local family in need with two bags of groceries.
According to Major Philip Smith, Santa Barbara corps officer, the kettle season is one of the largest fundraising mechanisms that the corps has control over.
"Here in Santa Barbara we raise about $50,000 a year," Smith said. "However, that varies from corps to corps and location to location."
In an effort to man the kettles, The Salvation Army hires paid seasonal workers to ensure a stable workforce throughout the season. This year, however, Smith is expanding the kettle workforce by giving residents of the Santa Barbara Hospitality House an opportunity to work as kettle volunteers.
"What's different is that we have implemented one program that kind of spans and helps bridge an opportunity for both the people we serve through our corps social service program and the Hospitality House specifically," Smith said.
Hospitality House residents are required to find employment within 90 days. In order to help facilitate this, The Salvation Army provides residents with a workplace readiness program to prepare members to enter or re-enter the workforce.
"We thought that if we introduced and targeted that specific group of people in our resident population with a workplace readiness program, it would benefit them in their job search," Smith said. "We're helping people learn how to dress, how to conduct themselves in an interview, and learn how to understand basic skills about entering the workforce, and the etiquette and culture of the workplace."
With the holiday season approaching, Smith realized that he had an opportunity to reinforce the things that the residents had learned in that workshop through kettle volunteering.
"The skills directly translate into a job like that of a bell ringer," Smith said. "If you consider bell ringing as customer service, which is really what it is, it's face to face interaction with the public. You have to be able to engage people in a somewhat professional fashion, you have to be able to demonstrate an understanding of the culture, you have to dress well, show up, and you have to be responsible for the job."
It is a voluntary program; however, kettle volunteers have the same responsibilities as employees.
"By being a volunteer they have room to fail, but moreover, they have room to demonstrate successes," Smith said. "It helps reinforce the training they just gained out of the workshop and apply it."
Following their participation, kettle volunteers will receive a certificate of completion and a letter of reference on Salvation Army letterhead signed by the chief administrator.
"Because it's voluntary, we believe that that's another way of reinforcing to a potential employer later on that they have put a lot of effort into preparing themselves to re-enter the workforce," Smith said. "They went through a workshop and they volunteered for The Salvation Army where they could apply those skills. We feel that all of these things combined on a job application will have an impact on their ability to gain employment."
As additional compensation for their time, The Salvation Army will waive participating residents' fees for two months. Smith also plans to extend the first phase of their program, which required them to find a full-time job within 120 days.
Utilizing volunteers will decrease the overhead for kettle season and increase the Army's overall net income in Santa Barbara.
"There are a lot of benefits to it besides saving money on my bell ringing expenses," Smith said. "If we decrease our net expenses or increase our income, the divisional commander has agreed to match us up to 10 percent, so there is a lot of incentive there for us to come up with ways to do that. There are a lot of places where there is a win here."
Smith hopes that volunteers will experience the joy of serving throughout the holidays in this capacity, and that the training will help participants gain employment.
"We have embraced the concept 'hope happens' and have made it a program motto," Smith said. "We believe that hope is not an emotion you feel, but a state of being that God wants to create in you when you open yourself to his will and opportunities in your life."