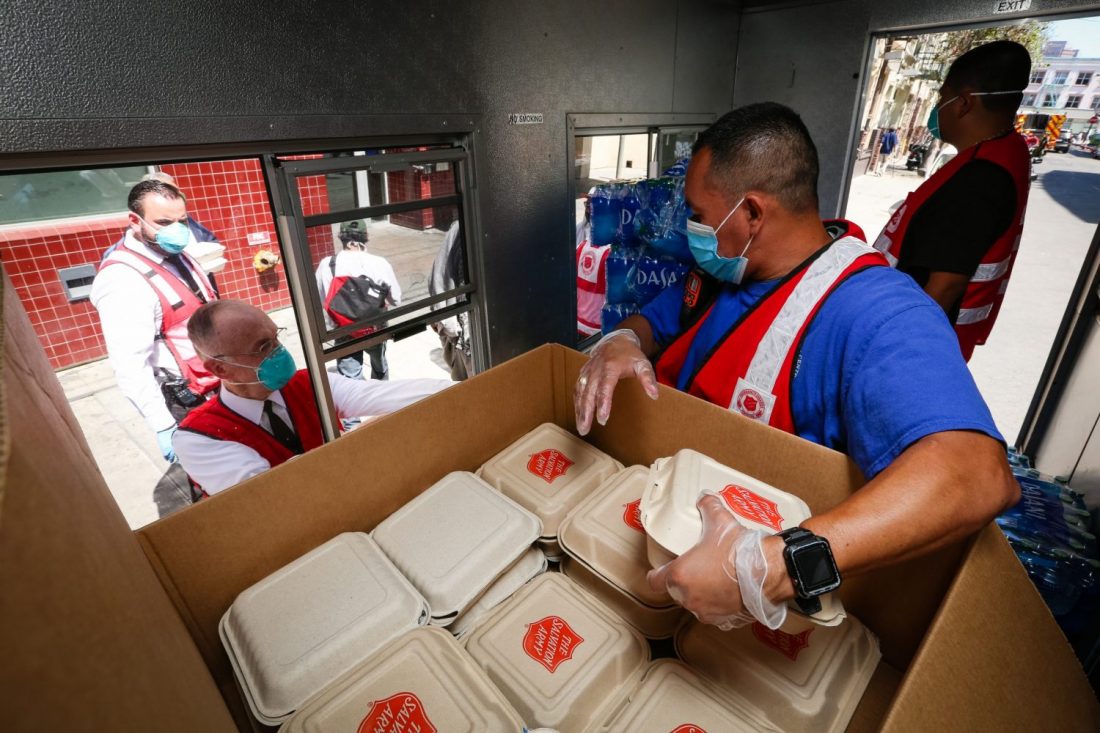 What we've learned about sheltering during COVID-19: An evolution
More breathing room brings less tension, fewer beds
By Hillary Jackson–
When the coronavirus pandemic began to spread through the Western U.S. a major question quickly became: What about people experiencing homelessness? Cities raced to get people off the streets and into shelters, and The Salvation Army expanded its sheltering efforts.
"Getting people off the street became a public health issue that was going to be everyone's problem if it was not addressed," said Territorial Social Services Director Sabrina Kiser, noting the limited access those living in encampments have to running water. "There was also concern by government officials that COVID-19 could spread quickly and become uncontrollable in large encampments or in places where people are able to travel easily between communities."
At the beginning of the pandemic, many of the Army's efforts centered around creating congregate shelters—shared sleeping spaces. The new shelters even used some of The Salvation Army's thrift stores, among other unconventional spaces.
"The response to homelessness is typically very slow," Kiser said. "Once COVID hit, options for housing that were considered impossible before all of a sudden were on the table."
As the pandemic stretched on, society's understanding of how to house those experiencing homelessness evolved as more information and resources became available.
San Francisco homeless advocates opposed opening additional congregate shelters after the city's largest shelter, St. Vincent De Paul Society's Multi-Service Center South, reported 70 COVID-19 cases. There, The Salvation Army's efforts focused on delivering meals and snacks to more than 50 encampments each day.  
"Providing food security directly to encampments and unhoused people struggling on our streets is an essential component in expanding Shelter in Place compliance and enabling the most vulnerable among us to participate in social distancing," said Abigail Stewart-Kahn, Interim Director of the city's Department of Homelessness and Supportive Housing. 
In Los Angeles, The Salvation Army partnered to open congregate shelters in both public and Army-owned facilities. On April 3, California Governor Gavin Newsom announced Project Roomkey, in which California became the first state to secure FEMA approval to provide self isolation via hotel rooms for people experiencing homelessness. 
The Army's COVID-19 efforts focused on manning a series of hotels with Project Roomkey across the county, including the 400-bed Grand Hotel shelter in Downtown Los Angeles. California South Division Interim Social Services Director Anabel Sanchez said clients are referred to the hotel shelters through an outreach system, with a portion of the clients coming in from other shelters that are congregate settings that have lost space due to social distancing.  
"It is safer to have this type of model, where each person is given their own room," Sanchez said. "If someone does get sick, it's easier to isolate and quarantine."
In the Pacific Northwest, similar transitions have occurred in cities like Seattle and Everett, Washington. There, Army-run congregate night shelters turned to a 24/7 enhanced model to reduce the likelihood of bringing in the virus from the outside. The move, along with social distancing, has helped to mitigate many of the typical stressors found in congregate shelters, said Northwest Divisional Social Services Director Susan Tiffany. 
"When we moved to the 24/7 with six-feet social distancing…we saw an immediate decrease in some maladaptive behaviors people had," Tiffany said. "There was a sense of more calm, peace and happiness among our shelter guests…It almost provided a sense of having an own area."
As COVID-19 continued, some of the division's shelters transitioned to hotel shelters, where everyone has his or her own room. Tiffany said the change has been well received.
"The clients are so grateful. They shouldn't have to feel grateful to have their own bed, their own roof…that's a basic human right," Tiffany said. "We take for granted so often the environment that is created when people have to live in a congregate shelter with no walls. There is a level of stress that comes with it that we, as people who are housed, can't imagine."
Tiffany said the move to hotel shelters has also exposed the long-term impact living homeless has on an individual.
"We see their physical health improve, their mental health improve, and I would say that something that people don't realize is that a lot of times their social and emotional health improves," she said.  
Before the move to hotel shelters, there were many unknowns related to outcomes, Tiffany said, including if those experiencing homelessness would damage hotel rooms. Tiffany received a report from one of the hotel shelters of a guest that had "trashed" the room. She later found out the bed damage was related to a medical issue the individual was facing. While the bed will need to be replaced, Tiffany warned against assuming the worst from those experiencing homelessness, as it may not happen.
"People who are experiencing homelessness are not any different than people who have homes," Tiffany said. "I'm fairly confident that there are people who are either renting or bought a home who trash them. Why do we expect people experiencing homelessness to do so?"
Overall, giving people their own rooms has had a positive impact, not just on clients but just on staff, Tiffany said. Jason Detmer, The Salvation Army's King County Shelter Director, said typically much of the management of a congregate shelter is de-escalation.
"Having the ability to go into a place and close the door and unwind has been very,very beneficial to the clients and we see that in how they're behaving, how they're interacting with the staff," Detmer said. 
With many of the Army's night shelters serving other uses during the day, like the Seattle City Hall shelter, clients who often have high degrees of mental illness or substance abuse spend most of the day out in the elements. Having to wait in line to secure a bed can add tension. 
When the time came to open the hotel shelter, Detmer borrowed a 15-passenger van to transport guests, and he kept the final destination a surprise. When they arrived at the hotel, he asked them, "What are you going to do?" The overwhelming response? "I'm going to watch the news."
Eventually, after COVID-19, hotel shelters will return to being simply hotels. Leaders in social services are looking forward, asking questions like, how do we balance being good stewards of the spaces and resources we have available, and also how do we provide ethical services to people?
"We are internally discussing how we can keep this new model," Detmer said. "Here in Seattle, there is a large need for homeless services, and by default, we have always gone toward the congregate living facility and stacked people together to make better use of the space…With that model we save lives, provide a service and give people a safe place to spend the night."
Tiffany noted the opportunity COVID-19 has given social service providers to gather data on the outcomes of housing an individual long-term. 
"Collectively, we all realize the benefit of people having their own housing," Tiffany said. "I think things have to happen at a higher level, not only within The Salvation Army, but within our government funding programs…a lot of times those funds are tightly integrated into how we are sheltering." 
HOW TO HELP:
If you'd like to make a monetary donation, please click here to make a gift.
Text 'GIVE' to 52000 to make a $10 donation to The Salvation Army. This will automatically add a one-time donation to your next mobile phone bill.
For information about volunteering, please visit volunteer.usawest.org.
To learn more about how to support The Salvation Army's relief efforts, please click here.