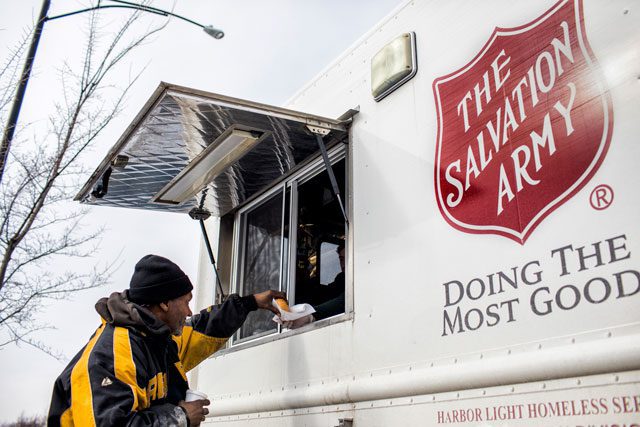 West's Social Services Director talks responding to need and rescuing Christmas
By Christin Thieme – 
Consider for a moment that you lost your job at the start of this global pandemic. You had a good job. Last New Year's Eve you never could have expected to be unemployed. But now you are. Your usual expenses are still due and while you now have no income, you've also added new needs—like health insurance. You know this Christmas won't be like it was last year, but can you really not buy any gifts for your child? 
It's a sobering reality that so many Americans are facing this year.
And as some have said, it's a disaster without the cleanup. We're in month nine of the ongoing hurricane. 
So while we've heard again and again this year that the need is greater, we know that need is personal. It touches individual lives—many who have never needed assistance before.
Sabrina Kiser is the Director of Social Services for The Salvation Army in the western U.S. She oversees initiatives like The Way Out, a plan to double The Salvation Army's impact on homelessness by 2024. And this year, she has supported the significant expansion of feeding and sheltering in response to COVID-19.
In just the 13 western states, The Salvation Army has provided more than 5.5 million meals, beverages and snacks and some 600,000 nights of lodging since mid-March.
Kiser appears on the Do Gooders Podcast Dec. 7 to explore need from all angles—as the pandemic hit, the outlook right now and as The Salvation Army Western Territory prepares for what's to come—especially as we're currently out to rescue Christmas.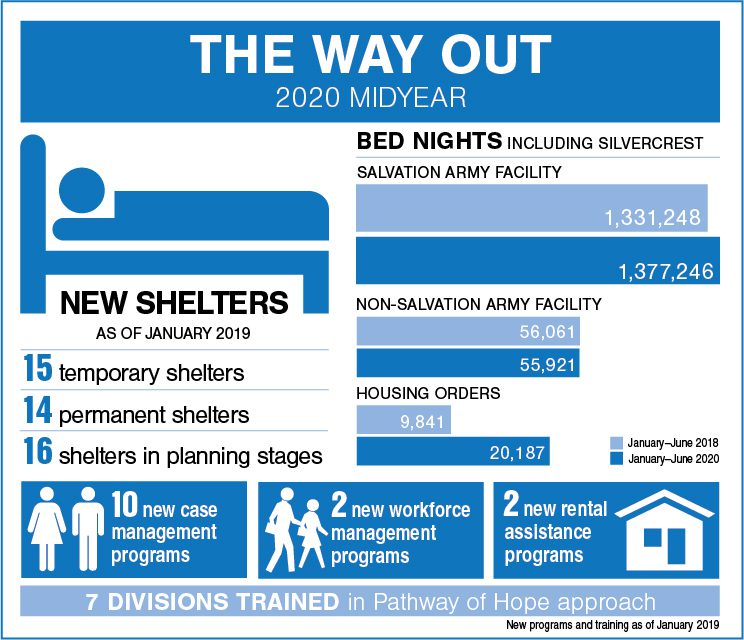 Here's a preview of 10 key things to listen for:
We increased meal delivery services by 400 percent. "That's something that we usually only did for seniors or people that had mobility issues," she said. "And with COVID-19, we were delivering meals to kids that were out of school. We were delivering meals to seniors. People who had been diagnosed with COVID and were in isolation, we would deliver three meals a day. We continue to deliver about 1,400 meals a day to our unhoused neighbors in encampments around San Francisco."
We're seeing that groceries are still a really big need.
One in six Americans could face hunger this year, according to Feeding America. "There've actually been a lot of really wonderfully done long-form articles to show what hunger in America looks like right now, because it does not look the same way it looked last year," Kiser said.
"A big part of grocery assistance is then it shifts the available cash that people have so that they can pay other bills," she said, and it allows The Salvation Army to provide encouragement alongside the food. "We've definitely heard from folks coming to get a bag of groceries that it's the one time they see other people during the week and it lifts their spirits to see that someone cares about them, to know that someone is being kind."
We've assisted a lot of people for the first time.
"Hospital workers and first responders were a really big focus early on in the response. They had nowhere to put their kids into childcare because all the childcare was closed, so we really pivoted that way," Kiser said. "That's not a population that we're used to serving and so that was a lot of new people who received services from us for the first time."
Many others were waiting for unemployment or government assistance to come through and they needed something to hold them over.
"In one case, a mom who was a teacher was laid off and she needed help with rental and utility because her daughter needed to do her homework at home," she said. "And the utilities need to be turned on in order to do that. And you need to be able to pay for your internet and you need to be able to pay for your electricity."
We are definitely focusing on seeking partners for eviction prevention dollars. 
"Those are sometimes harder to come by and we know that that's going to be one of the biggest needs," Kiser said.
We've been able to strengthen government partnerships on the local, county and state levels. 
"Some governments that we never really worked with were turning to us just because we have the infrastructure to do things quickly and efficiently, and we know how to scale programs," Kiser said. "So there are a lot of governments that we were not partnering with earlier that because of the pandemic, we've become a go-to partner."
We have 16 new shelter programs in the works across the West.
See more in the graphic representation of Kiser's 2020 mid-year update on The Way Out.
We want to help rescue Christmas for parents, too.
"There is something extremely dignified and loving for parents in getting their kids Christmas presents," Kiser said. "I think that for those of us who have more means, we don't recognize the deep impact of not being able to give your kids anything on Christmas morning to open up…for the parents, it really impacts them really deeply. So we want to make sure that these parents are able to have things for their children to open on Christmas."
We're reaching more people through contactless applications for Christmas assistance.
"The guardian can fill out the application online. It goes to The Salvation Army unit. They'll be able to match up a donor, who could also potentially be an online donor," Kiser said. "It's going to look very different, but we're hoping that we can reach more people this way and that we can help people feel safe and cared for by doing it this way." 
We can fill gaps with your cash gifts.
"I know cash is not the answer that people love in how they can help, but I think something that's really important for people to understand about when you donate to The Salvation Army is we're able to fill a lot of gaps that other community partners aren't able to fill because it's our dollars," Kiser said. "We're allowed to decide where it goes."
We can all be kind.
"It's been a really hard year; just be kind to other people," she said. "I think that that's a big thing that people are really responsive to right now is just genuine kindness."
Listen in to the Do Gooders Podcast wherever you download podcasts and see more at caringmagazine.org/podcast.