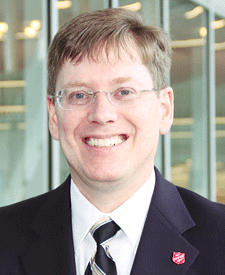 West welcomes new territorial executive director of development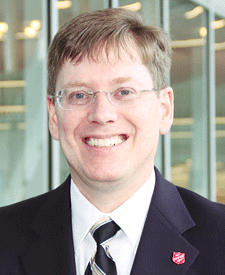 By Karen Gleason
The Salvation Army's Western Territorial Headquarters welcomed a new leader to the Community Relations and Development (CRD) department in late 2012—Charles A. (Chaz) Watson, territorial executive director of development. From 1999-2012, he was divisional director of development for the Army's Eastern Pennsylvania and Delaware Division.
Now in the West, Watson oversees CRD operations across the territory. Each year, fundraising initiatives in the West result in over $250 million for The Salvation Army mission. Watson said he looks forward to maintaining strong, active relationships with development directors and divisional commanders, supporting them in accomplishing their goals with available resources, and helping them in developing new resources.
"Our role is to support the divisions," he said. "The divisions support the corps, the field, and the frontlines."
Watson sees potential in major donor and leadership gifts for program, operations, capital and endowment. He wants to develop this area and to help The Salvation Army become better stewards of donor relationships.
"We don't want to lose people; we want to keep them close," he said. "We want to give them opportunities to experience the blessedness of giving, and concurrently strengthen The Salvation Army."
Watson plans to focus on endowment, considering it The Salvation Army's future strength. This form of sustainable funding, he said, will prevent further economic problems and funding cutbacks. He believes it will also help planning to become less episodic and more long-term.
"Sustainable funding feeds the mission," Watson said.
With the proliferation of non-profit organizations competing for resources increasing, Watson intends to meet this challenge by keeping close contact with supporters despite the depressed economic climate.
"We need to strengthen our base of support, and build for the future," he said.
His plans include building direct marketing and progress in the department's social media.
"We need to focus on what our best practices are, and how to share them," he said.
Watson was born into The Salvation Army to officer parents, Commissioners Robert and Alice Watson. He holds a bachelor's degree in Biblical Studies from Asbury College and a master's in Urban Studies from Temple University.
While serving as director of development in Philadelphia, Watson was a driving force in the proposal, development and planning for a 131,000-square-foot Ray and Joan Kroc Community Center in that city. He led the largest capital and endowment campaign in the Army's history to completion, helping secure a $93.5 million award from the Joan Kroc estate and raising over $48 million in private and public funds to establish and secure the center, which opened in 2010.
Regarding his move to the West, Watson said, "It's an exciting opportunity for advancing The Salvation Army at a strategic level."
Watson said he sees development as a ministry that connects The Salvation Army to the outside community, so that they can get involved as well. "Development work is partnering with God in engaging people to come together to build his kingdom," he said.
Watson's wife, Deborah, and their younger son, Micah, moved with him to California. The Watson's older son, Noah, is a sophomore at Drexel University in Philadelphia.