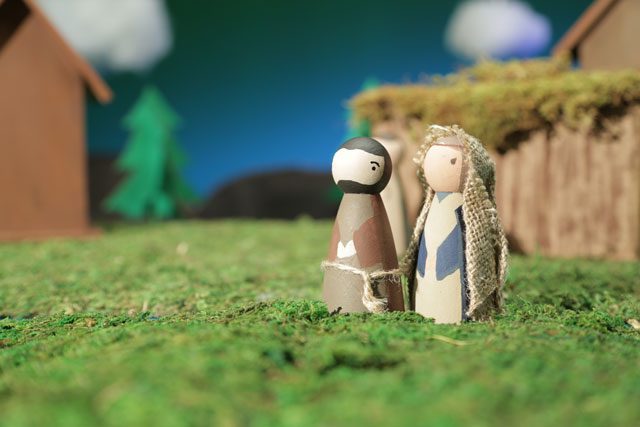 West to "RE:GIFT" Christmas message
 Nativity set encourages worship, creative community and evangelism 
By Sue Schumann – 
While many of us are familiar with "re-gifting"—giving someone a gift that we originally were given—the Western Territory is putting an innovative spin on the practice through a new resource that combines Advent videos, a do-it-yourself nativity kit, and the opportunity for evangelism.
It's called RE:GIFT, and it is all about "the Gift…and the giving away."
Conceived by Jason Leighton, assistant director for multimedia ministry, and Major Rob Birks, assistant training principal, and developed through the territorial multimedia department, RE:GIFT has three main components—worship, creative community, and evangelism:
• Worship: four short Advent videos feature stop-motion animation with peg figures.
• Creative community: a kit containing everything needed to create a nativity set, which can be put together by family, friends, or on one's own. Charming in its simplicity—an unpainted nativity with wooden peg figures—it provides the means of sharing and re-sharing the true gift of Christmas, the birth of Jesus.
• Evangelism: once the nativity is completed, it can be given away as a gift to neighbors, friends, family members, classmates or others, as an opportunity to share Jesus with those who do not yet know him.
"I love the simplicity of the evangelism aspect," Birks said. "It's creating, and then giving away."
And it's grounded in the concept of intentional community, according to Leighton, providing a means for people to gather together to create the nativity and then share their faith as they "re-gift" it. "It's a way to get the Gospel out," he said.
Here's how RE:GIFT works:
The four videos, narrated by Birks, can be shown during Sunday meetings and provide insights into the Advent journey: prophecies about Jesus' birth; Mary and Joseph's travel to Bethlehem and the angels' messages to the shepherds; God's innovative birth announcement about Jesus; and our opportunity to welcome Jesus into our daily routines.
Visually, viewers explore the Advent journey through the video's stop-motion animation—a carefully created world of Mary, Joseph, and Jesus, complete with sheep, clouds, trees, fields, and houses—delightful in its vitality and vibrancy. Deceptively simple in appearance, Leighton explains it took over 2,100 stop frames to create the motion.
Creating the nativity sets provides the opportunity for people to work together and engage in creative community. This is the Torrance, Calif., corps' goal, said Corps Officer Major Millie Bearchell, who ordered 100 kits.
"We will spend one Sunday as a congregation watching the Advent videos, gather around tables, and create nativity sets together," she said. "Singles and families all work together, in community. I'm really excited about it." The idea of sharing Jesus with friends and coworkers by re-gifting the nativity, she said, is compelling.
The nativity sets are 7.5 inches x 7.5 inches in size and contain five peg figures, sandpaper, felt, paint, brushes, and everything needed to create the nativity. Four of the peg figures become biblical characters. "The fifth peg is extra," Leighton said. "It's to be painted and kept—to remember through the year the person you gave the kit to, and keep him or her in prayer." A Christmas card is provided to go along with the nativity gift.
"Community is a key part of this," Birks said. "Creating the nativity, doing it at the corps with friends…I love everything about it."
Each corps in the territory was sent a sample kit, which includes instructions and suggestions that encourage relational evangelism. Corps may purchase additional sets, in any quantity, for a subsidized price of $5 each.