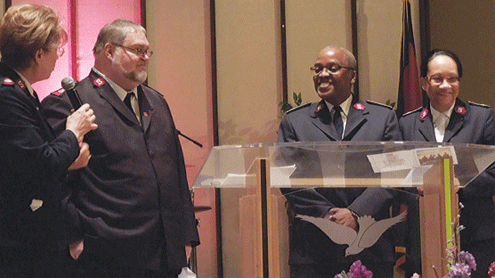 'We shall win'—soldiers acknowledge victory in Christ
Southern California Division celebrates soldiers and farewells Lt. Colonels Leslie.
By Ian Robinson, Major
The Southern California Division celebrated its soldiers and bid farewell to its divisional leaders, Lt. Colonels Victor and Rose-Marie Leslie, on Jan. 29 at a soldiers rally at Congress Hall in Los Angeles.
The meeting's theme, "We shall win," highlighted The Salvation Army's victory in Christ. Celebrating the service of the division's faithful soldiers, the rally featured the Pomona Corps Band, making its debut at a divisional event, the Torrance Singing Company, bilingual worship with the Divisional Praise and Worship team and the Broadway sound of Captains Billy and Annalise Francis, Long Beach corps officers. Latina dancers from Los Angeles Central and Santa Ana Corps gave contrasting graceful and dramatic presentations.
The rally continued to emphasize the theme of "We shall win" as the near capacity crowd sang the verses of that song throughout the evening. Video testimonies by Rosie Roque (Burbank) and Jason Leighton (Long Beach) underscored the theme. Notable awards were given to Cashmere Walker of the Inglewood Corps, distinguished junior soldier of the year, and David (Shieuhong) Lin of San Gabriel, distinguished senior soldier of the year.
The evening came to a dynamic conclusion with the division saying farewell to its leaders. Lt. Colonels Victor and Rose-Marie Leslie left that same night to take up their new leadership appointments in the Caribbean Territory, where they will serve respectively as chief secretary and territorial secretary for women's ministries. They exhorted the congregation to continue to "fight in the strength of the King" before departing to the strains of "Victory in Jesus." After almost four years, their strong leadership has been marked by the financial recovery of the division, moving divisional headquarters to Long Beach and opening the San Luis Obispo and Bell Lighthouse corps. Countless soldiers, officers and friends crowded around them to say a loving farewell.