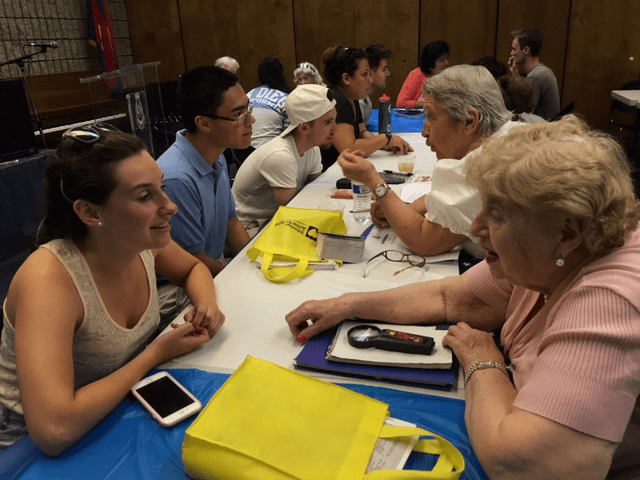 Volunteer gets through to Russian seniors with English lessons
San Diego Silvercrest residents receive customized lessons and assignments to make learning easier.

Ever since grade school, Anna Shipulina had dreamed of coming to the United States to teach Russian.
"I have always wanted to be a language instructor," said Shipulina, an Oskemen, Kazakhstan, native.
As a class assignment, she was asked to create a LinkedIn account. Once she logged into her profile, she came across a Salvation Army ad seeking an English-language instructor for the Russian senior community at the
San Diego (California) Silvercres
t Residence. Instead of teaching Russian to English speakers, she'd be teaching English to Russian speakers. But the prospect intrigued her.
"I figured this would be a great opportunity to hone my skills and teach English at the same time," she said.
The San Diego Silvercrest provides housing for 130 low-income seniors, including a sizable Russian population.
The facility launched an English as a Second Language (ESL) program in August 2015, but many of the volunteers had difficulty reaching the Russian residents—that is, until Shipulina arrived in January 2016.
Now, Shipulina teaches weekly English classes to 15 Russian-speaking women, and the instruction is making an impact.
"I requested this class specifically to encourage my Russian residents to learn English, so they can better advocate for themselves," said Ederlyn Gonzaga, Service Coordinator at the San Diego Silvercrest Residence. "The class has increased their confidence and they are more sociable because they can handle short conversations with other residents."
Shipulina creates customized lessons and assignments, and teaches situational dialogues such as what to ask doctors, what to say at the bank and how to write checks. She teaches a session on how to identify and spell out numbers and even gamifies some of her lessons.
"I've come to realize how we take communication of simple daily tasks for granted, while others unfamiliar with the language really struggle," Shipulina said.
In the summer, Shipulina teaches Russian at San Diego State University (SDSU) and brings her college students to the Silvercrest so all involved can learn from each other through conversational exercises.  
"It's interesting to see the dynamic of people from different generations and cultural backgrounds communicating with the languages they are learning," Shipulina said. "I feel very happy when a student is able to use what I have taught them."
As expected when learning a new language, the Silvercrest participants sometimes become frustrated and revert back to speaking Russian. Some also experience difficulty memorizing and are unable to read due to failing and blurry vision. To mitigate such issues, Shipulina prints materials in bigger and bolder font to make it easier for her students to see.
"I try to make them as comfortable as possible, so they can open up and try to speak English while learning the concepts of the English language," Shipulina said.
Shipulina recently graduated Summa Cum Laude from SDSU with a bachelor's in Russian Studies and will pursue her master's in applied linguistics while continuing to volunteer at the San Diego Silvercrest.