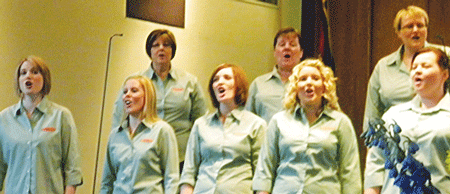 Voice of a Savior—Sydney Staff Songsters
Group performs at Pasadena Tabernacle Corps in their only Western appearance.
The Sydney Staff Songsters, led by Songster Leader Graeme Press, were in top form during their recent appearance at the Pasadena Tabernacle Corps (Calif.).
Pasadena Tabernacle Songster Leader Martin Hunt said, "The SSS invigorated the audience with their energy, passion and witness, through song, testimony and personal communication."
At the start of the evening and then again at the end, the songsters sang words arranged by Carol Cymbala:
Thou, O Lord, are a shield for me
My glory and the lifter of my head.
As the concert began, the songsters invited the congregation to sing with them as Press prayed and invited the Holy Spirit in. Along with the energy and excitement in the room, the presence of God was evident as songsters and congregation worshipped together.
"I can honestly say that this was the best communication between singers and congregation I have ever seen. It was like an interactive experience—completely incredible!" said Neil Smith, Western territorial music secretary.
During the evening, the Pasadena Tabernacle Songsters also came to the platform to sing. In June, just after Commissioning, the Tab Songsters will be in Sydney on their Australia and New Zealand Tour.
At the conclusion of the concert the congregation shared in a time of reflection and prayer. The members of the songsters left the platform and prayed all around the chapel with attendees who were requesting prayer in a moving and memorable part of the event.
"In this world of instant communication, it would be almost impossible to beat the level of communication shown by the songsters," said Smith.
"The Sydney Staff Songsters gave a virtual clinic on how to engage others through music, effectively communicating the gospel to a responsive audience. The group's musical presentations demonstrated a wonderful versatility of style and listeners were touched and moved by their genuine expression of joy and passion for Christ," said Major Steven Bradley. "They 'rocked the house.'"