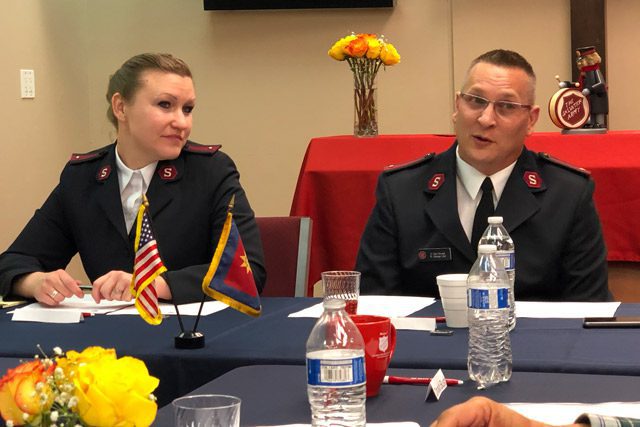 Utah Salvation Army outpost forms advisory board
The Salvation Army in St. George, Utah, established a new advisory board with the installation of 10 members—civic, philanthropic and business leaders—who will assist the organization in matters ranging from strategic planning to public outreach.
Selected for their community involvement and engagement with The Salvation Army, board members will offer advice and counsel on how the organization can best serve and make the local community a better place to live and work.  
New advisory board members include Gregg Freeman, Nadene Barish, Charlotte Shelley, Ryan Roylance, Dick Higgins, Kim Fry, Donald Bush, Scott Slater, Mike Kerber and Gordon McCracken.
"We are honored that each of these civic and community leaders has accepted the mantle of voluntary leadership with The Salvation Army," said Lt. Saul Smoak, In-Charge at the St. George Outpost with his wife, Crystal. "Each is accomplished in business and community change and we are honored that they will apply their knowledgeable insight to help guide the St. George Outpost." 
The advisory board came together quickly, considering the St. George Outpost just began serving clients in May 2018. In June of this year, Intermountain Divisional Commander Major Mike Dickinson asked outpost leaders to focus on forming a board.
"It has been amazing to watch God put the people he wants to advise The Salvation Army in St. George right in our path," Smoak said. "With the help of our board and God's guidance, we believe God is going to do something really big through us in this community."
Smoak said during the next few months the board will consider the top services the community needs.
"I believe a community center, assistance with drug and alcohol abuse or children's daycare would be our initial frontrunners," he said.
Located in Southern Utah close to Zion National Park, St. George registers a population of approximately 90,000 people, including a third that are under 18, and welcomes over six million tourists annually.  
Smoak said residents are community-minded and love to volunteer.
The Salvation Army has been bell-ringing in St. George for about 20 years and started the local soup kitchen. In 2016, the Army rented a building and established a service center. Recognizing the opportunity for ministry through church services and Bible studies, the Army sent the Smoaks to St. George to lead the ministry there.
"We are working hard to meet the requirements to take St. George Outpost to a full-fledged corps community center by leading men's and women's ministries, Bible studies, worship services, youth programs, outreach events and soldier classes—we have three people attending now," Smoak said. Sunday worship attendance and midweek Bible study average about 30 people. 
 "All of this by remaining faithful to God's plan, seeking guidance from other Salvation Army leaders, recognizing the community's needs and prayer," Smoak said. "God is doing amazing things in this community and it's unfolding right in front of our eyes. We are extremely grateful to be a part of his plan and witness our mission be lived out in St. George, Utah."